Authentic African Foods and Recipe Blog
Cooking Across the Continent ...
One Country at a Time   
Welcome to my African foods blog. You'll find the latest news, information, and recipes here as they are added. Don't miss a step on my journey to bring Africa home and cook across the continent from my Canadian kitchen.
Bookmark this page or subscribe by RIGHT clicking on the orange RSS button in the widget to the right. Then, copy and paste the URL of the "RSS feed" into your blog reader.
Relax and savour all the goodness of African cuisine and join in the conversation by sharing your African food stories, ideas, and recipes here. You might just see your submission on this blog!
Newest African Food Articles
Mar 01, 2018
Chicken stock | AFRICANFOODS.co.uk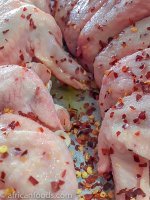 Chicken stock| Chicken stock, what could we ever cook without them? Pieces of browned chicken bones with or without chicken simmered in water with herbs and spices and a bit of salt for hours delivering the ultimate flavours to help you reach the crescendo in your cooking