Buy Cassava Flour Here
BUY CASSAVA FLOUR HERE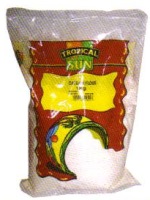 Buy cassava flour online here. We stock cassava flour by Oluolu and African Sun, as well as Cassava flour by Nelson. There are the top quality brands in the market. Click on the brand of your choice, buy and we deliver to your door.
---
Cassava flour is obtained from the tuberous root of the cassava plant, called
Manihot esculenta
. It is widely grown all across Africa, and remains a major component of the typical African food stuff.
Cassava flour is made from freshly harvested cassava tuber, peeled, allowed to ferment for 3 to 7 days depending on species and region, and then using the most current technology, desiccated (that is, dried) into a fluffy powdery product. By so doing, the cassava is made fit for consumption, and reduces to insignificant levels, concentrations of cyanide compounds found naturally in cassava.
The cassava is not roasted ... another way of reducing cyanide concentration in certain species. Some cassava flour are also made from unfermented cassava.
Cassava flour is rich in starch and fiber. It can be used more or less the same way as wheat flour, and thus cassava flour is widely used in making bread, biscuit, cakes and other a long list of other items.
As a component of African foods, it is eaten as fufu or used in making:
Cassava balls,
Bread,
Chin-chin,
Pancake,
Muffins,
Donuts and indeed any other item that can be made out of wheat flour!
Those with irritable bowel syndrome or celiac disease have found it very useful to substitute cassava flour for wheat flour in their meals...another reason why many buy cassava flour every day.
If you suffer from an allergy and you think it may be due to wheat flour, or not even sure, it is now possible to find out what food or dietary item you may be allergic to.
Many laboratories provide food allergy testing kits. You can test the suitability of cassava flour, wheat flour, diary products or any other dietary items for your consumption by using one of the very popular and reputable laboratories in the UK called YORKTEST.
We will be including a list of cassava recipes on this site soon. Why not kindly send us a cassava recipe you know and we shall include it here.
Remember, cassava flour is just the perfect flour for you to replace wheat flour in every way, and especially if you suffer with coeliac disease. Buy cassava flour here now and enjoy the flavour and benefits.
You can buy cassava flour and more directly from our sister site now at www.afrocarib.co.uk. Happy shopping.

Contact Us
│
Free Ringtones
│
UK Jobs
│
UK Train Tickets
│
Bethelgroups Online Shop
│Top Professional Exams │Afro Caribbean Shop Online│Let's Talk Health│Acne│