Nigerian Food Recipes
Helping You Explore Top Nigerian Recipes

Nigerian food recipes are derived from a number of grains, rhizomes, bulbs, fruit seeds, vegetables and an avalanche of fruits. See top Nigerian foods here and how to prepare them. You would be able to contribute your comments and add to this conversation on foods eaten by Nigerians within and outside the shores of that country. 

Are you searching for Nigerian food, looking to make that top of the world Nigeria food dish for your spouse or family? Here is a list of commonly eaten foods in Nigeria. We want to help you make the best Nigerian meal ever.
The Nigerian food basket reflects the diverse culture, weather and soil variation, fauna and flora as well as unique tastes that has evolved over the many centuries amongst the well over 500 distinctly different tribes and languages that resides in the Nigerian space.
The impact of Westernization as well as early Arabian contact has in no small way also helped to shape the preferences and food choices you would find on the Nigerian table. 
Irrespective of where you live or look at though, the Nigerian food recipes come mainly from a selection of semi solid doughs or boiled servings prepared from cassava, plantain, yam, cocoyam, millet, beans, maize, or rice, served with a typical Nigerian soup or stew.
Soups and stews are generally a careful and deliberate blend of spices and seeds or thickeners in a broth enriched with fish and assortment of meats and leafy vegetables if desired.

Meals are also served with plenty of fruits easily grown near homes.
The following are the list of 5 foods commonly eaten in Nigeria and how to prepare them. Before we list them, lets look at the typical Nigerian breakfast list, lunch and supper or dinner.

Nigerian Food: Typical Breakfast Menu List

Are you looking for ideas on what you can have for breakfast? The typical Nigerian breakfast largely depends on where in the country you live in, and to a large extent on your income or buying power.
The following are the most commonly found items on the Nigerian breakfast table, from Yola to Calaba, Lekki to Kontagora.
Breakfast in Nigerian usually consist of a very light meal, quick to prepare and easy to digest. It is often largely vegetable based. They include:
Akara (shown here to the right), served with pap (ogi or akamu). Akara is made from soaked pealed beans (black eye beans), blended into a thick paste and fried. If you live abroad, you can substitute custard for pap or ogi.

Bread smeared with butter or margarine, severed with fried, scrambled or boiled egg and a cup of tea.
Moi-moi and bread or pap with a bowl of fresh fruits.
Fura de Nunu. This is pasteurized milk severed with millet or corn flour. This is a popular breakfast item in Northern Nigerian, though increasingly consumed all over the country. You can make your very own Fura (millet flour) and nuno (milk) at home or buy from market and ensure you boil to pasteurize before consumption.
Fried Ripe Plantain (Dodo) Served with boiled or fried egg and a cup of tea
Boiled Yam and Green plantain served with nice pepper soup and fresh fish - more in Southern / Midwestern Nigeria.

Boiled Yam served with scrambled or friend egg or omelet. You can substitute potatoe for yam, if you cannot find yam abroad.

Boiled Rice and Stew.
The list goes on and on. We have listed only healthy and authentic African food choices easily found across the country.

Do you have a list of nice healthy breakfast idea? We would love to hear from you. Please send us your list and we would include it here. Contact us here to do so now.

Nigerian Lunch Ideas
Lunch in Nigeria is usually the big meal. Lunch is eaten at about 1 to 2 pm.
Common lunch menus across the country include:
Miya Kuka served with Tuowo Masara or Tuwon Shinkafa or Tuwon Acha
Eba (made from grated fried cassava) served with a choice of soup
Pounded Yam severed with an authentic Nigerian soup
Starch or Usin served with banga soup
Rice and friend plantain or dodo
Beans served with fried plantain or dodo
Jolloff rice, moi-moi, friend plantain, and salads

The list continues. You are indeed please welcome to add to this list by contacting us too.

Nigerian Dinner Ideas

Dinner or supper in Nigeria is usually eaten anytime from 6 to 8pm.
It is often a lighter meal than lunch. Popular supper or dinner menu list in Nigeria include:
Yam porridge
Plantain Porridge
Potato porridge
Beans porridge
Jolloff rice
Yam, plantain and pepper soup

Rice and beans
Rice and stew
Etc.

In between food, snacking is very common. Popular Nigerian snacks include:
Chin chin
Fried plantain chips (kpekere)
Roasted corn or maize
Ground nut (Gugurou and ekpa)
Suya
kilishi.
Top Nigerian Foods
Cooking is a very important skill quickly learned at very young age by both boys and girls, even more so by the female child. Cooking is done mainly by the lady of the home. Families often cook their own meal rather than eat out.To cook is to demonstrate love for yourself and your family!

No wonder learning how to prepare Nigerian food dishes is a must for to-be wives who wants to marry the traditional Nigerian man. It is a common saying in Nigeria that "the fastest way to a man's heart is via his moth"... and you get there by learning to cook delicious meals!
We bring you three Nigerian food recipes here, but you will find a list of "zillions" of Nigerian foods on the Nigerian foods list section here
Foods eaten in Nigeria, like in most hot climes, are often very spicy. We will describe them here as they would have been cooked anywhere in Nigeria; hot, spicy and tantalizing!
Top on the list of the different foods eaten in Nigeria includes rice, followed by eba, beans, yam, maize, potato, macaroni, plantain and several others, which comes in different recipe combination.
Rice recipes for example include jolloff rice recipe, fried rice recipe, ofada rice, banga rice, coconut rice etc. Rice can also be cooked white and eaten with stew.
Jellof rice happens to be the most popular rice recipe eaten in Nigeria and here is how to cook jellof rice.
Jelloff Rice Recipe

The ingredients for jolloff or jelloff include:
3 cups of rice, onions,

One medium sized blender full of ground tomatoes,

2 cubes of maggi seasoning,

Curry powder,

Thyme,

Meat(turkey, chicken, beef or fish),

Salt and pepper to taste.
Preparation:
Wash meat and parboil with 1 ball of onion, maggi seasoning, curry powder, thyme, salt and any other meat spice.

Boil for 5 to 8 minute,

add water then boil till it is soft for consumption.

Separate from the water and fry.
Blend the tomatoes and pepper together up to 1/2 blender full, and set aside.
Parboil the rice, wash and set aside

Now put your cooking pot on fire, allow to dry
Add about 4 to 5 cooking spoon full of groundnut oil, heat for about 3 minute
Then add the sliced onions to the hot oil and stir.
Add the ground tomatoes, fry and stir for the next 10 to 15 minute till the sour taste is eliminated then add water about 2 to 3 cups of water, add Maggi seasoning, salt to taste, and more onions. Taste for salt before adding the rice. You may allow the salt to be excess a little bit as the rice would absorb some.
Once it taste nice, add the rice, stir evenly and cook till it is soft for consumption. Once done, serve with the fried meat and maybe a glass of cold water too.
How To Cook Egusi Soup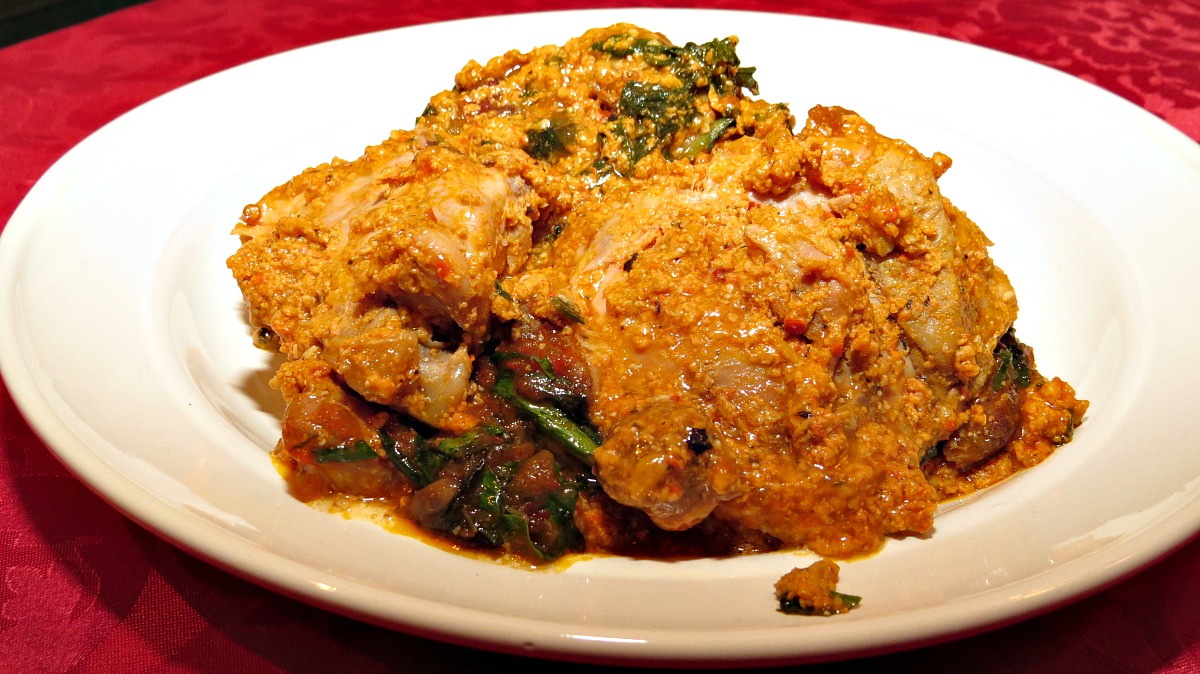 Eba comes second on the list of foods eaten in Nigeria. It is often eaten with eba or pounded yam, amala or indeed tuwon masara.

Egusi soup ingredients include:
Ground 2 to 3 cups of egusi,

Stock fish,

1 to 3 cubes Maggi seasoning,

Onions,

Pepper,

Dried fish (mangala)
Vegetable (bitter leaf, green leaf (ugu)

And meat of your choice (chicken, beef, turkey, or any fish)
Preparation:

Wash the meat with warn water and cook with 1 or 2 cubes of Maggi, salt, onions, and other meat spices for about 5 minutes.
Then add water and cook till the meat is soft enough for consumption then set aside.(don't allow the water to dry totally)
Soak the dried fish and stuck fish separately in hot water and wash thoroughly to remove every pinch of sand (as that could cause a gritty sensation when chewing)
Blend the egusi and mix with cool water to form a thick egusi syrup.

Then set your pot on fire and add about 1/4 liters of oil allow to heat for about 5 to 10 minutes.
Then add the egusi syrup and stir till it forms smooth mix with no coagulation.
Add the boiled soft meat and you are almost done.

Add the dried fish, crayfish, one cube of Maggi, pepper and salt to taste.
Stir and cook for about twenty minutes till the egusi settles down into a thickened the soup; add your vegetable and you are done.
Allow to simmer for another 5 minutes.
Serve with eba, pounded yam, garri or amala.
How to Cook Nigerian Porridge Yam
Porridge yam is one of the simple and easy to make Nigerian food and could be made with or without tomatoes.  Here is how to prepare Nigerian yam porridge with tomatoes.
Ingredients:
Yam - about 2kg yam
2 table spoonful of ground crayfish
1 or 2 cubes of Maggi seasoning,

2 to 3 teaspoonful of ground hot red pepper

1 teaspoonful or cooking salt,

1 or 2 medium sized onions
2 tins of chopped tomatoes
200 ml of oil or vegetable oil
300g of freshly cut spinach.
Chicken breast cut to desired chunks - about 1kg.

Preparation:
Peel off the back or skin of the yam and slice into serve-able bits, wash and set aside as shown in the picture above (the completely white items in the plate to the far left)
Blend the mix of tomatoes, 1 onion and fresh pepper and had a teaspoonful or two of red hot dried pepper according to your tolerance of hot spice and set aside
Slice the second onion into small bits
Now place your pot or sauce pan on your burner or stove. Allow water in pot to dry off
Add about 250 mls of vegetable or olive oil. Allow to get hot for about 5 minutes.
Add the heap of sliced onion and allow onion to fry into a brown crispy form
Add your blended mix of tomatoes and onion and fresh and dry pepper. 
Allow to fry for about 10 to 15 minutes on medium heat. Stir intermittently to prevent it from getting burnt

Now add the yam  (or potatoes if substituting for yam) and cover pot. Allow to simmer for about 5 minutes
Add your already cooked and spiced meat (chicken or assorted meat or fish) as well as some meat broth if available
Allow to cook on medium heat for another 5 minutes.
Add one cube of Maggi seasoning, half or full teaspoonful of salt and the spinach. 
Allow to simmer on low heat for 5 minutes.
Your Nigerian yam porridge is ready for serving.

What Is Your Nigerian Food Recipe Of Choice?

The above Nigerian food recipes are a rough guide of what can be done easily with readily available Nigerian food items. What is your favorite food choice? We would love to hear from you. Please post your comment below.