Nigerian Stew
How To Cook Authentic Nigerian Red Stew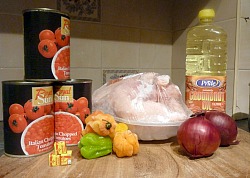 The Nigerian stew is a special type of stew prepared and eaten all over that country.
It is a unique blend of tomato, onion, fresh red hot pepper, fried in vegetable oil and to which meat, or fish or a combination of both is added, with some seasonings. It is often called Nigerian tomato stew or Nigerian red stew to reflect the ingredient or the look of the stew.
It leaves a red, excitingly spicy stew that can be served with boiled white rice, or boiled yam or boiled plantain. It can also be served with grated fresh cooked okra and eaten with pounded yam or eba. Hm mm.
Nigerian stew comes in the following forms:
Nigerian beef stew
Nigerian fish stew
Nigerian goat stew
Nigerian chicken stew or
Nigerian spinach stew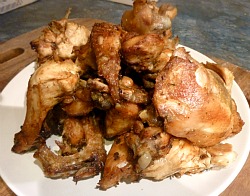 depending on what type of meat, fish or vegetable is used in making it.
Sometimes, other Nigerian soups are referred to as stew, like banga soup (palm nut fruit soup, popularly called "ofe akwu" by the Ibgos), and even egusi soup as well. But in the strict sense of the word in Nigerian parlance, these are soups and not stew - to the English man, (or woman), they will qualify to be described as stew though, like all other African soups.
We shall now proceed to describe the authentic Nigerian stew recipe.
Nigerian Stew Recipe: The Ingredients
Tomatoes...........3 Medium Cans of (Italian) Chopped or 800g of fresh red tomatoes
Fresh pepper.........2 to 3 balls
Red Onions...........2 medium sized onion
Red hot dried pepper (ground) - 1 to 2 teaspoonful
Derica tomato paste - 70g (1 small can)
Pure Groundnut or vegetable oil (olive oil can also be used instead)......250mls
Beef or chicken or goat meat .........1kg
Maggi cubes(seasoning)........2 to 3 cubes
Dried Curry Powder..........1 to 2 tablespoonful
Dried thyme leaf (ground)
Spinach (optional)..........2 cups full
Preparation Time: 90 Minutes.
Serving: 6 to 8.
Nigerian Stew Recipe: The Cooking Method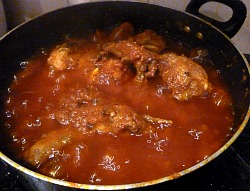 Prepare the chicken or meat first. Then, the tomato and pepper sauce.
Obviously, there will be variations to this recipe, but what is described here incorporates the principle of how to cook Nigerian tomato stew.
Remember to use Nonstick Cookware
when cooking this recipe. It reduces the chances of your cooking getting burnt.
Do you have another method of cooking this recipe? Share your idea below.

Nigerian Stew Ideas, Questions & Comments: Have Your Say.
Do you have a great and original Nigerian stew recipe idea? Have a question on how to prepare this delicious stew, or where to get ingredients, or just want to leave a view or comment? Share it here!
What Other Visitors Have Said
Click below to see contributions from other visitors to this page...

Nigerian Stew

Recipe Beef/Chicken/Fish (you can use any) Red tomatoes (Tomatoe Jos) Pepper Onions Tatashe (optional) Tin tomatoes vegetable oil Maggi Salt …
Akata/Ishan Not rated yet
I want to know if the soup will still have the authentic taste by not using any type of oil?
Return to Nigerian Foods from Nigerian Stew Page