African Food Suppliers
Connecting Suppliers & Buyers Worldwide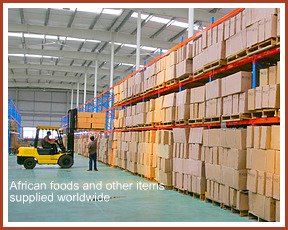 Are you looking for African food suppliers? Are you an African supplier and wish to get in touch with potential buyers? Is there a particular item of African origin you desire and want a point of contact for?
Many producers of exotic African shrubs, fruits, seeds, extracts, tubers and other products of African origin from across the world can now show case their products to the world here.
We continue to get requests for very large consignments for items including, but not limited to:
African Bush Mango Seed (ogbono)
Bitter leaf
Bitter kola
Ulanzi drink
Matoke
Plantain leaves
Palm nut fruits samples (fresh) to the USA
You can upload items you supply as well as how you can be contacted and terms of business (briefly) below. Please contact us first through this form before expecting to see your business featuring here.
Are you looking for a particular item of African or Afro Caribbean origin in large or fairly reasonable amount? Why not also contact us via this special form so that we can upload such item here and await responses from potential suppliers?

---
Disclaimers
This medium connects African food suppliers and buyers only. We do not endorse a supplier or buyer. We cannot verify the authenticity or claims of any of the parties and will in no way whatsoever accept liability for any damage(s), irritation or loss (losses) arising from the use or lack of use of the information or details of a supplier or suppliers or buyer featured here.
All should please take all reasonable care in transacting business with suppliers featured, and even buyers who contact a supplier. We will not be drawn into any dispute please.
Your use of this site or use of information posted here constitutes an acceptance of our terms and condition as just stated.

---
Suppliers List
Are you an African supplier? Do you have wares you want to feature here? Why not get your business featured on this page. Post your details now.