African Restaurants
Taste The Delicious Goodness of African Food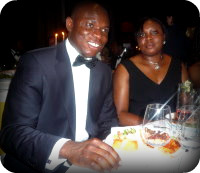 African Restaurants are many across the UK. There you can get mouth watering and 'finger licking' authentic African dishes from different corners of the continent prepared and served in a relaxed friendly environment.
From London to Manchester, Wirral to Glasgow, these culinary parlours are sure to excite and massage your taste receptors with exquisite satisfaction from the blend of unique African chillies, spices, meats, and staples.
---
Why not try eating out in one of these restaurants? It could be a nice way of getting introduced to African foods for the uninitiated, and a eating out point for Africans in diaspora and others alike, who relish the tantalising taste of the African dish, but are unable to settle down and cook.
It will also give you a first hand insight into the rich and beautiful cooking Africans enjoy world over, that many know little or nothing about. You can even ask for African food recipes from them.
Ring in to order hot African food from some of these African restaurants and get same delivered to your door.
Are you planning an African event? Get in touch with any of these African restaurants to prepare and deliver all or part of the meal to be served. Surprise your guests with an African dish table. They will love it and love you for it!
Top African Restaurants in the UK
We bring you a directory of top African food restaurants in the UK. For restaurants in other regions of the world, please see click here.
If you own or know a top African food restaurant in the UK not listed here, please feel free to contact us to upload the details here, or you can indeed do that yourself. Let's build the largest directory of top African Restaurants in the world for the benefit of all.
If you have used any of the restaurants listed below, please leave a comment on your experience.
---
805 Restaurant
805-807 Old Kent Road
London, SE15 1NX
Telephone: 020 7639 0808
Fax: 020 7277 2003
Email: info@805restaurant.com
This is a flagship African Restaurant, serving mainly Nigerian cuisines. You will be sure to find something delicious to suit your taste there. It is a most for any lover of African food. Read and submit reviews here.
---
Have Your African Restaurant Listed Here
Do you run an African Restaurant? Have it listed here and be visible to our over 25,000 monthly visitors from around the world.

Please contact us with a formal request, after filling out the form below. We charge a small fee for listings.