Bournvita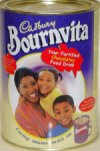 Bournvita is a malted non-alcoholic beverage made by Cadbury since 1932 in the UK, and introduced to India and Nigeria in 1948 and 1960 respectively. It was discontinued in the UK in 2008.
It is still a very popular drink amongst Nigerians and indeed Indians worldwide.
Though many take it as a bed time drink, it is actually commonly drank as tea at breakfast in most African countries.