Buy Indomie Instant Noodle Here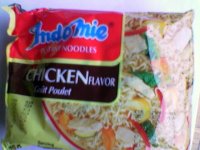 Looking to buy indomie instant noodle? We stock a variety of indomie noodle from Nigeria and Indonesia. Buy indomie online here, and get it delivered to your door.
Indulge your taste buds to the sizzlingly delicious goodness of this fast but healthy food. Served with fresh vegetables and fish or meat portion, oh, how refreshingly satisfying!
Indomie instant noodle is the perfect fast food without the junk for any busy person, ready for eating within minutes.

Indomie noodles is a brand of noodle so popular in Asian and African cuisines today, that the word indomie it self, is now almost synonymous with noodle.
Noodles are a very wholesome and healthy paste based food product made from boiled and dried or steamed and fried dough of wheat flour. Often added to the dough are a variety of spices, flavours, eggs and vegetables, depending on the manufacturer. They can thus be compared to bread and other healthy food items.
Noodles are increasingly popular worldwide because they are taste very good, easy to cook (one to five minutes, depending on type), light weight, easy to carry about as meals and have long shelf life.
Indomie noodles is a product of the Indofood food company of Indonesia, the world's largest producer of instant noodles.
Nigerian Indomie
Nigerian indomie is truly unique, superbly tasteful and carefully developed for the Nigerian taste.
Indomie instant noodle is widely eaten in Nigeria and many African countries, and it is estimated that by the year 2020, indomie instant noodle consumption in Nigeria will equal that in Many Asian countries. No wonder it is so apt to include indomie noodle as an African food.
Nigerian indomie noodle comes in five popular flavours. They include:
Chicken Flavour
Onion Chicken Flavour
Spicy Chicken Flavour
Jollof Flavour
Indomie Chicken Pepper Soup Flavour
We stock various flavours. Buy your Nigerian Indomie here online.
Many have tried to compare Nigerian indomie to the Indonesian indomie. Let us know what you think here. Tell us your findings, in terms of difference in taste, filling effect and texture between Nigerian indomie and Indonesia indomie.