Buy Palm Oil
Red Unrefined Natural Palm Oil to Your Door
Buy Palm Oil For Cooking Here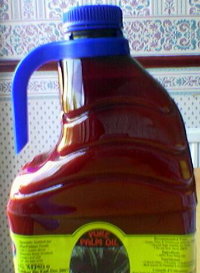 Are you looking for where to buy palm oil? We stock red unrefined natural palm oil. Get your crude palm oil with all natures nutritional goodness locked up in it, unadulterated. You shop, we deliver to you any where in the UK.
This product is the same as the Brazilian Dende Oil, except that this oil is more concentrated, as it is the crude palm oil, undiluted and unrefined.
We can also deliver palm oil to the USA and European union, provided the total weight of what is purchased is no more than 1kg.
Our palm oil comes in:
450mLs to 500mLs Bottle
1 litre Bottle and
2 Litres Bottle
You pick up your choice, we deliver straight to your door.


Palm oil has been described as the best vegetable oil in the world. It is highly nutritious. It is healthy. It helps reduce cholesterol in us.
It is a must if you are planning to cook or prepare a number of African dishes including soups like:
Ogbono soup
Egusi Soup
Gbegiri Soup
Afang Soup
Edikaekon Soup
Efo'riro Soup
Owo' Soup
... and cooking other items like beans, moi-moi, and an almost endless list of traditional African food dishes. It is also used as a 'sauce' to eat roasted or boiled yam or plantain.
Malaysian palm oil is used exactly as the above oils from West Africa. The very first ever palm oil to reach Malaysia came from Africa. It was back in Benin-City Nigeria in West Africa that palm oil was taken to Malaysia and cultivated. If you are looking for Malaysian palm oil, this is the unrefined version. Why not buy palm oil from one of our ranges here.
Buy Palm Oil From Ethical Farms
Palm Oil is made from the pulp of the palm tree fruit called Elaeis guineensis. It is a tree found growing in the wild in most Tropical Rain Forests, especially in West Africa. In the last 80 years, palm oil production has become a big business, and trees are now grown in commercial scale, to meet the growing demand for palm oil in domestic use as well as for bio diesel.
This has resulted in deforestation of may parts of regions where palm oil is produced in large commercial quantities.
We care about the environment. We always insist that suppliers from whom we buy palm oil ensure that these come from ethical plantations where the integrity of the farm regions are conserved by re-forestation, saving the planet and the Orangutans, gorilla, baboons and other animals who live in these niches.
This is our stand on the ethical production of palm oil products. Buy your palm oil online here and contribute to the conservation of the environment with well valued suggestions.
Want regular update on African cuisines and food recipes? What about unique health information regarding these foods - what to eat and avoid to keep healthy from the list of African recipes available? 
Fill in the form below to subscribe to our Newsletter - AfricanFoods Weekly?
Worried about spamming? We are too. We will never ever give or pass on your information to anyone else. We will only use your email address to send you your copy of our weekly newsletter. We do have a zero tolerance to spam. We subscribe to a very strict policy on the handling and use of information we gather on this site! We also get paid for affiliate links on this site. See our privacy policy for further details. 
Follow us on social media:
Get Our Weekly Newsletter. Subscribe Today. It's FREE.

Subscribe to African Foods Weekly
Get African food recipes, cooking tips, and healthy eating info delivered to your inbox every week. Simply fill in your email below and click SUBSCRIBE.

(Your information will not be shared)