Close Up Toothpaste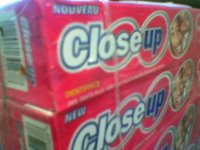 We stock the original close up toothpaste "which cleans your teeth and refreshes your mouth like never before"

Brief History of Toothpaste
Toothpaste use was first reported in Africa (Egypt) at about the 4th AD. The primitive toothpaste was we know was made up of salt, pepper, mint leaves and iris flower.
Urine based toothpaste was widely used in Europe during the Roman times.
In early America, toothpaste consisted of burnt bread.
Up till today in many parts of Africa, specific types of herbs are still been chewed which helps to keep the mouth and teeth pristine clean.

Buy Your Close Up Toothpaste Here
You can now buy your close up toothpaste here What brand of toothpaste do you use? Today there are at least 20 different brands of toothpaste in the market. Most contains the same basic ingredients: Sodium fluoride or sodium mono-fluoride.
The Close up toothpaste contains:
Sodium Fluoride, Triclosan, with sorbitol, hydrated silica, water, PEG32 SLS, flavours, cellulose, gum, sodium saccharin, trisodium phosphate, C1 16035 and C1 17200.



125mL Close Up Toothpaste
Click button to buy

Why close up toothpaste in an African food shop? Yes. I would have asked the same too. I was at Dalston Market in London the other day, and meet a queue of people waiting to buy this close up toothpaste.
What is the force about this particular brand of toothpaste? I asked. I was made to understand that many Africans in Europe and America do not use any other toothpaste apart from this for its unique taste and "tingly freshness".
This Close up toothpaste is made by Lever Brothers Limited (Unilever) and used all over Africa, from Tema in Ghana, Nairobi in Kenya, Kampala Uganda, Addis Ababa Ethopia, Dar es Salam Tanzania, Limbe Malawi to Lusaka Zambia.
Curiously, this toothpaste contains the same basic ingredients like the one made in Europe.
I started using it myself and found it to be really nice… now you can understand why we stock it.
Get your own close up toothpaste along with your shopping and try it today.