Congo Food
How To Prepare Authentic Congolese Food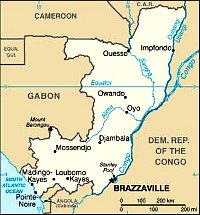 Congo food recipes are centered around the same range of food items eaten all across this continent. The bulk of the Congolese food is made from cassava (yaka), palm soup (mouamba ngagi), rice, maize, beans, peanuts, various fresh vegetables, sweet potatoes, cassava leaves (ntoba), yams, plantain, games, fresh fish, eggs, and poultry.
Before the exploring Portuguese step their feet on the coastal soil of the Congo in the 1500s,
Eleusine coracana, otherwise referred to as Finger millet or luku by the natives was the staple food in this beautiful African paradise.
Manioc was introduced by the European traders and has since gained the prime stage as the staple in both Congos (Congo Brazzaville and Democratic Republic of Congo - formerly Zaire).
We bring you a list of the top foods in Congo:
Cassava Leaves Soup
Also called Ntoba, this is a very popular Congolese soup dish prepared from chopped cassava leaves, cooked with palm oil, fresh fish and peanut butter.

It is served with luku (fufu) made from millet or cassava or nshima.

Palm Fruit Soup
Also referred to as Mouamba ngagi. It is a rich African soup dish (stew) prepared from using the squeezed juice from freshly boiled palm nut fruit. It makes a thick red creamy sauce, into which spices and fish - fresh or dried (smoked), is added with vegetables and cooked. Salt fish is also an alternative.

Okra can be included as a soup thickener or to give it a unique texture and flavour.

Again, this delicious African stew can be served with ground millet, yam, plantain, or any fufu.

White Beans
This is another very popular Congo food. Referred to simply as as Madezo or saka madesu. This meal is cooked with white beans, meat or smoked fish, palm oil or vegetable oil, onions and other spices to taste,and vegetables like cassava leaves.

As expected with most legume based meals, this Congolese food is very rich in protein, filling and will be a good addition to a weight loss diet. Can be eaten alone with fruit desserts, or as part of main meal served with bread, yam, or fufu.

Peanut Butter Soup (Mouamba Ngouba)
Also referred to as muamba nsusu by ethnicities along the Congo river down to Angola. This is the Congolese version of peanut butter tomatoes stew. It is prepared with peanut butter, palm oil, chicken or salted fish, tomatoes, onion, red chilli pepper, and other condiments to taste.

Serve with fufu or rice or boiled plantain or yam.

Bouillon of Bush Meat (Bouillon Sausage)
This is considered a treat. A greater part of Northern Congo Brazzaville is sparsely populated, teaming with wild forest games. This meal is therefore more popular amongst the nomadic population and made from wild boars, porcupines, deers, elephants or monkeys.
Have an African Food Recipe to Share? - Upload It Here
Do you know a wholesome African Recipe? Share it! Just Write it up and submit it for others to enjoy!!