Moimoi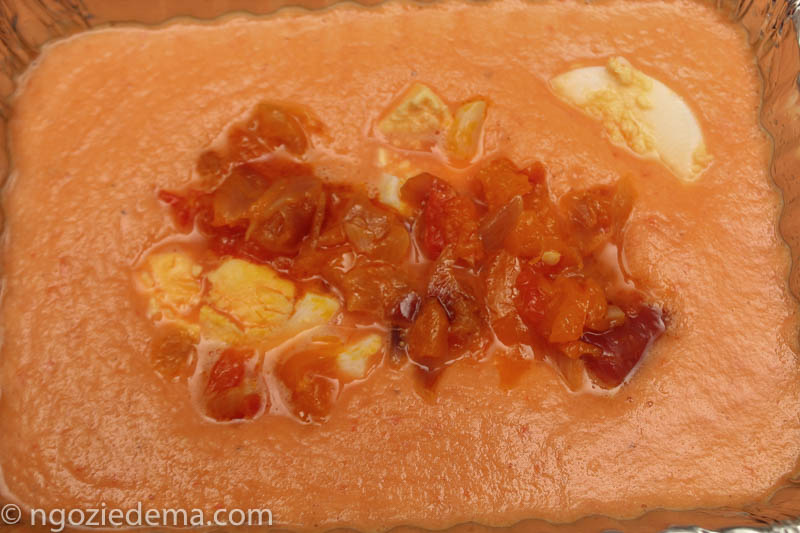 Moimoi is a rich steamed beans cake eaten all over Nigeria and beyond. It is often served with ogi or custard, can be eaten with jolloff rice or on its own. It is truly a delicious combination with most meals. Rich in protein, it is the perfect weight loosing meal with good filling effect.
Also refereed to steamed beans pudding, or bean sponge cake, moimoi is made from soaked, peeled and blended black eyed beans. To this is added blended fresh pepper, onion, plus or minus tomatoes, and seasonings.
The beans is first soaked and the skin removed, then, blended.
These days, there is already prepared beans flour or dry peeled beans meaning you do not have to spend so much time soaking your beans or blending it. This can be bought from most African food shops in Europe and America too.
Flaked fish, boiled eggs, prawns, crayfish, sardine in oil, or smoked fish could also be added to improve taste and richness.
The semi solid pudding formed is then scooped into a small cooking cup and brought to boil for about half an hour. Traditionally, this pudding is cooked wrapped in special leaves. Some have used a ordinary sandwich bags to cook their moi moi.
Moimoi preparation is largely the same all over Africa. This is a more or less Nigerian food, with Nigeria being the world's largest consumers of black eye peas eaten in various preparations.
Come along and let's prepare this beans recipe to your tasteful delight.
Moimoi
| | | |
| --- | --- | --- |
| Servings: 6 | Prep Time: 20min | Cooking Time: 40min |
Ingredients
2 cups of dry peeled beans
1 large onion
3 large bell peppers
1-2 Chilli pepper of choice
2 boiled eggs, take off shell  and slice
1 can of sardine or 1 cup of corn beef (some people use both but they are both optional) 
3 tablespoons of vegetable oil
salt to taste
Method
Soak beans preferably overnight or for 2-3 hours
Grease the inside of aluminium foil containers with lids and set aside.
Thoroughly rinse beans drain and transfer to blender along with the large onion quartered for easy blending and all the peppers
Blend until smooth.
Pour bean mixture into a bowl and stir continuously in a circular motion stop at intervals to take a break as it is a lot of workout.
Heat up the vegetable oil and pour into bean mixture
Mash corn beef and sardine into flakes(if using) and add to bean mixture with the sliced eggs and any other flavour of choice stirring the mixture lightly again.
Pour the mixture into aluminium foil containers three quarter full to allow enough room for the moimoi to expand during cooking.
Cover the containers well and ensure water does not sip in during cooking.
Pour in water into a heavy based pot and place your aluminium containers to sit in the pot allowing the water in the pot to stay not more than half way the height of the container arranged in a jenga  order. That means the first row sitting inside the pot is vertical then the next row on top is horizontal
Cook until beans solidifies. Ensure you add more water as it dries out throughout the cooking.
Recipe provided by www.AfricanFoods.co.uk
│Home│Contact Us │Shop│Ghanaian Foods│Caribbean Foods│Afro American food│Nigerian Foods
Powered By Solo Build It