Plantain Recipe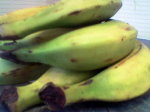 Plantain recipe are numerous and varied, depending on where you live and how you want them. Basically, plantain is cooked boiled, fried, grilled, baked, stuffed, pickled, or mashed.
Before you embark on cooking your chosen recipe from here, remember that plantain comes in three shades, and be sure to buy the exact type you need.
Green plantain is the unripe plantain. At this stage, it is hard to touch, cream to pearl in color when peeled, and has a unique hard taste. It is very rich in complex starch with little or no sugar. At this stage of ripeness, it is often eaten boiled or used in making what is called Kpekere in some parts of West Africa. After about 5 days, green plantain may become ripe.
The second state you could find plantain is as a yellow fruit, much like banana. This is the mid ripe stage. It is firm to touch at this stage, and if peeled, it is creamy to yellow in coloration. At this stage, the starch is been converted to sugar, thus it is sweet. This is the stage of ripeness used in making sweet plantain recipe. Mention it; from tostone, to dodo or patacones, this is the most popular stage plantain is used.
The third state you may find your plantain is as a black fruit. This is much ripened plantain. It is sweetest at this stage, though it becomes less firm and will soon become spoiled. If you are buying plantain at this stage, ensure that you buy one that is not soft and squishy to touch or gentle pressure, and make use of it within a day or two.
Plantain at this stage is also used for most of the same recipe the yellow one is used for.
Fried plantain is perhaps the most popular form in which this cousin of banana is eaten. It is called different name by different people. In Nigeria, it is called dodo. In South American countries, it is called tostones or madura, and Platanos fritos in Guatemala.
Plantain is also cooked boiled. This is much like boiling potatoes. You place the peeled plantain in a pot and had water to it and allow to boil for about half and hour until tender. This can then be eaten with a soup or margarine or some other sauce.
Another way to cook plantain that is common in Africa is to roast it under balls of red hot charcoal, until it is cooked.
We shall describe a few of the African and Central American recipes under the headings :
We shall be adding more on to the plantain recipe list. Remember, plantain is a highly nutritious fruit, rich in iron, potassium and dietary fibre. Many with irritable bowel syndrome have found this fruit to be soothing to them. Include plantain into your menu list today for a healthier you.
If you have or know any plantain recipe not mentioned here, please feel free to write and submit it here
Have an African Food Recipe to Share? - Upload It Here
Do you know a wholesome African Recipe? Share it! Just Write it up and submit it for others to enjoy!!