Bournvita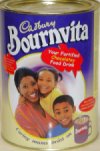 Bournvita is a beautiful brown cocoa based malted drink that comes in a coarse powdery form, richly fortified with essential vitamins and minerals in a deliciously skimmed milk powder base. It is a non-alcoholic beverage drink very popular in Nigeria, Sierra Leone, Liberia, Benin Republic, Togo, and South Africa.
---
Once made by adding warm or cold water to a scoop or two of Bournvita powder, it comes as a smooth nourishing tasty drink. Try it with your African food dish. You will love it.

This is one of the flagship drinks made and marketed by Cadbury in Africa and sold in many parts of the world.
The name Bournvita is derived from the words, vitality drink from Bournville or Bournville vitality drink. Bournville is a small village in Southern Birmingham in UK that the founders of Cadbury, George and Richard Cadbury moved their business to in 1879.
---
---
This revitalizing malt drink is also sold in Europe, but recently (in 2008), discontinued in the UK market.
Curiously, Bournvita made its debut here in the UK since 1932 got introduced to the Indian market in 1948, and then Nigeria in 1960 at independence. It continues to grow from strength to strength in Nigeria and many African countries.
This drink is so smooth in texture on preparation and soothingly refreshing that many people worldwide take it as a bed time drink. Many say it is much more better than holicks or any of the known bed time drinks in the Western world.
In many part of Africa and indeed India, it is taken as a chocolate beverage with breakfast. You can drink it hot or cold. In a hot summer day, it can be a really really exciting drink to drink iced. Just try it. Nothing refreshes more than this.
Nutritional Value
The nutritional value of Bornvita is great. It contains ingredients that are good for both physical and mental growth. No wonder this nutritional malt drink is mainly targeted at growing children from ages 2-10 and older. Yes. "Caring Mums insist on" this drink, says a jingo on the can.
A 100g contains:
400Kcal of Energy
8.0g of Protein
1.7g of Fat
0.7g of Dietary Fibre
15mg of Iron for healthy and good quality blood
4.5g of Zink - good for maintaining good skin and many enzyme functions in the body
1800mg of Calcium for strong bones and teeth. Good source of calcium in post menopausal women or anyone with osteoporosis (brittle bone disease)
5000 IU of Vitamin A – Providing 100 % of the Recommended Daily Allowance of vitamin A needed for bright eyes, good vision and fine skin
… and many many more like vitamins B, C, D, E, selenium, potassium, magnesium and more.
You can easily see why this is called a rich drink and suitable for everyone in the family above two years of age.
Where to Buy Bournvita
You can buy Bournvita online here at your African Food Shop Online and get it delivered to you any where in the UK.
You can also buy Bournvita at Afrocarib.co.uk - the online Afro Caribbean shop.
We can also deliver up to 900g (one big can) of this drink to you if bought alone, anywhere in Europe, America, Canada or Australia. Ok. You can actually order as many as you want, but the delivery cost goes up according to weight.
If you are in Africa and thinking of where you can buy this drink, why not check out your local supermarket and see if they stock it.
If you are desperate for it, just put in an order here and get it delivered by courier to your address… the delivery charges may be much. Just go to the order page and complete your order and the delivery charge to your destination will be automatically calculated.
Join the Bournvita Debate. Share Your Experience
Do you have any experience with Bournvita you what to share? Or just want to write a review for others to read? Why not add it here. You can even share with others any exciting way you find taking this malted drink. Bournvita.