Baked Yam
How To Bake African Yams
Enjoy the goodness of freshly baked yam. It is delicious, filling and highly nutritious. Bake your yam in these easy steps now!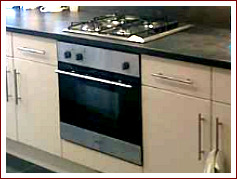 Baked yams are a delight to the taste buds, when served with roast chicken and medium or hot and a can of ice cold palm wine juice.
Nandos garlic peri peri sauce or sweet chilli sauce is also a very good accompaniment.
It must quickly be said here that baked tropical yams must not be confused with baked potatoes. Yam is a tropical underground tuber, different in texture and taste and much more bigger than any form of potato, measuring an average of 15 cm in length, but could be up to 70cm long and 10 cm wide! You can see pictures of yam here. This is a popular meal in West Africa, though tend to be roasted yam rather than baked.
How to Cook Baked Yam
Get a 1 to 2 Kg yam to serve up to 6 people
Peel of the skin of the yam. This is very important, because unlike potatoes, the skin of yam could harbor loads of sand and grits, and often very muddy as well
Wash the peeled yam, and then slice in wedged shaped chunks, measuring about 3 inches (8cm) by 2 inches (5cm)
Wash again in clean water to remove any vestige of mud or grit and place sliced yam chunks in a holding bowl
Get olive oil or groundnut oil. Sparingly brush a thing film of oil to cover each piece of yam
Now wrap each piece of yam in an oven foil tightly and place in a radiant or thermal conventional oven, pre heated to about 375 to 400 degrees
Allow yam to cook for about 90 minutes
Allow to cool for another 10 minutes or so, remove from foil, test the centre for softness by poking with a table fork
If soft, it is well cooked. Otherwise, cook again for another half an hour
Your baked tropical yam is ready to be served with your choice African hot sauce and roast chicken.
Have you tried out this recipe before? Any brilliant new idea? You can now make a contribution to this topic with your right up credited to you, and posted on this very page.

Have You Tried Baked Yam Recipe Before?
Do you have any great experience with this recipe? Share it! Just...





Return from Baked Yam Page to Yam Page