Authentic African Foods and Recipe Blog
Cooking Across the Continent ...
One Country at a Time   
Welcome to my African foods blog. You'll find the latest news, information, and recipes here as they are added. Don't miss a step on my journey to bring Africa home and cook across the continent from my Canadian kitchen.
Bookmark this page or subscribe by RIGHT clicking on the orange RSS button in the widget to the right. Then, copy and paste the URL of the "RSS feed" into your blog reader.
Relax and savour all the goodness of African cuisine and join in the conversation by sharing your African food stories, ideas, and recipes here. You might just see your submission on this blog!
Newest African Food Articles
Sep 23, 2020
Millet Porridge Made From The Pearl Millet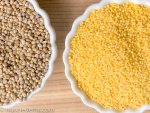 Millet porridge from the pearl millet is one of the healthiest meals known to man. Millet is a powerhouse of nutrients. It is rich in dietary fibre,.....
Continue reading "Millet Porridge Made From The Pearl Millet"
Want regular updates on African cuisines and food recipes? What about unique health information about these foods - what to eat and avoid to keep healthy from the list of African recipes available? 
Fill in the form below to subscribe to our Newsletter - AfricanFoods Weekly?
Worried about spamming? We are too. We will never ever give or pass on your information to anyone else. We will only use your email address to send you your copy of our weekly newsletter. We do have a zero tolerance to spam. We subscribe to a very strict policy on the handling and use of information we gather on this site! We also get paid for affiliate links on this site. See our privacy policy for further details. 
Follow us on social media:
Get Our Weekly Newsletter. Subscribe Today. It's FREE.

Subscribe to African Foods Weekly
Get African food recipes, cooking tips, and healthy eating info  delivered to your inbox every week. Simply fill in your email below and click SUBSCRIBE .

(Your information will not be shared)