Egusi Soup
(Melon Soup)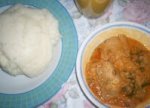 Egusi soup, also called melon soup is an absolute delightful delicacy enjoyed all over West Africa, especially amongst Nigerians anywhere they live.
It is arguably the most popular Nigerian soup, especially in the Southern part of that country.
Learn how to cook egusi soup now.
Are you new to Nigerian foods, and trying to learn nigerian recipes, then egusi soup is a sure place to start from. It is easy to cook. It is quick to cook too. The real egusi soup is prepared from egusi seeds, not pumpkin seed.
It is a spiced thick soup cooked with or without vegetables and fish or meat. It is highly nutritious, and very satisfying. Using egusi seeds will ensure you enjoy the unique flavour and satisfaction of agusi (egusi) or melon soup.
Where egusi or melon seeds are not obtainable, some have used pumpkin seeds, and even pepitas. Egusi can be obtained from most African food shops.
This soup is prepared basically the same way all over West Africa, but with some cultural and regional variations as in most dishes. We shall describe the most common or generally acceptable method of cooking egusi soup here.
Egusi Soup Recipe

Servings: 6

Cook time: 60 - 120 minutes


Ingredients

Egusi seeds (Grounded, 1-2 cups)
Palm oil ¾ - 1½ cup
Bitter Leaf - freshly squeezed, or dried or spinach / ugwu / any other fresh vegetable as may be available
Cray fish about ¼ cup grounded
Dried pepper or chilli 1 table spoonful or to taste
Maggi cubes or Knorr 1 – 2 cubes
Thyme about ½ teaspoonful
Curry Powder ½ - 1 teaspoonful

Real African Red Onions - spicy. 1 – 3 (Chopped)

Cooking salt
Fresh or smoked fish or stock fish

Goat meat (chopped to size)

Assorted meat – beef, ox tail, cow tongue, chicken, as can be obtained, about ½ kg each

Chopped tomatoes (blended)

Fresh pepper with or substituted for grounded dried pepper.

Cooking Method

If you are using stock fish, be sure to have soaked the stock fish in water overnight to make it soft and cook faster.

Put your goat meat and or assorted meat into a pot. Add cooking salt, 1 bulb of onion, chopped to small sizes, ½ teaspoonful of thyme, curry powder, and a small amount of water (about 2cups), one or two maggi cubes and bring to boil for about 30 minutes until soft and tender to taste.

While that is cooking, put your chopped tomatoes (1-2 tins), fresh and or dried pepper, 1 bulb of real African red onions into a blender and blend to a smooth paste

Your egusi seeds must have come in blended (grounded). If they are not, this is the time to grind them in a blender dried (in the small bit of the blender for dried materials). Take 1-2 cups of grounded egusi and put in a bowl, add 2 parts of water to a part of grounded egusi in the bowl and stir to form a paste. Some people do not do it this way. They leave the grounded egusi dry and stir fry it instead in palm oil. You can do it either way. Here, the first method will be used

The meat should have finished cooking by now. Get a big pot. Place it on the cooker and allow it to be hot, with all residue of water drying out. Do not let it burn though. Pour about ¾ - 1½ cup (150 – 300mls) of red palm oil in the pot. Be careful here, it could smoke and splash around, with risk of you been burnt! Allow the oil to warm for about 1 minute. Pour the blended tomatoes, fresh/dried pepper, onion paste into the oil and stir fry for about another 10 -15 mutes.

Now add the cooked meat to this base of stew and cover the pot and allow to simmer for about 3 minutes. Stir intermittently to prevent burning.

The egusi paste (or fried) can now be added to the stew with meat in it. Add your vegetables here, salt and one or two cubes of maggi if still required to taste and bring to boil for about 10 minutes. Stir intermittently.

You should be greeted with some mouth watering aroma by now and look, your egusi soup is ready!

Egusi soup is best served with pounded yam . It could also be eaten with eba, made from garri , or even semolina, or ground rice.