Jollof Rice
---
Jollof rice is a pleasantly delicious rice dish prepared with a blend of tomato sauce, red chili pepper, onion, nutmeg, ginger, assorted meat if available, and rice. It is a truly prestigious food eaten both as regular meals at home and during festivities in Africa.
---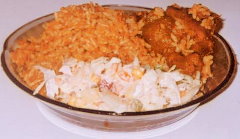 Once cooked, this rice dish come is orange to red shade, and is truly satisfying. It can served with salad, dodo (fried ripe plantain) or just eaten with meat of fish. Nutritious? That is an understatement.
While the true origin of Jollof rice remains a matter of conjecture depending on who you speak to, it is safe to say that this meal is very popular amongst Nigerians, the Gambians, Liberians, Ghanaians and indeed the whole of West Africa. If you are thinking of an African food or meal item to prepare for an African occasion, this is it. Your guest will love you for it.
Jollof Rice Recipe
You do not need to take a cheap flight to Lagos or travel to Kumasi to get a satisfying plate of jollof.
You can prepare a tantalizing dish wherever you are in the world. It is easy. It is fast. Just follow this this jollof recipe.
There are various ingredients used in cooking jollof rice depending on countries and individuals. But the basic ingredient is the tomatoes which gives it color and of course the rice.
The jollof rice is easy to make and tasty.