Corned Beef Sauce
Corned beef sauce is a tasty meat based tomato sauce that you can eat with anything, yam, plantain couscous, bread. You could also have this anytime of the day very versatile and delicious!
Corned beef sauce is a very easy to make sauce. I used the word very to qualify the easy as it is super easy. Most things are easy to do if you know what to do and if you can fix it in good time, the better.
 It is not unusual to have simple sauces you can whipp up in about half hour for breakfast in West Africa. We always prefer cooked breakfast by the way, so, food like fried eggs and various tomato sauces cooked with sardines, tuna, corn beef or fried meat or fish pieces are always easy go to options.
What Is Corned Beef Sauce Made From?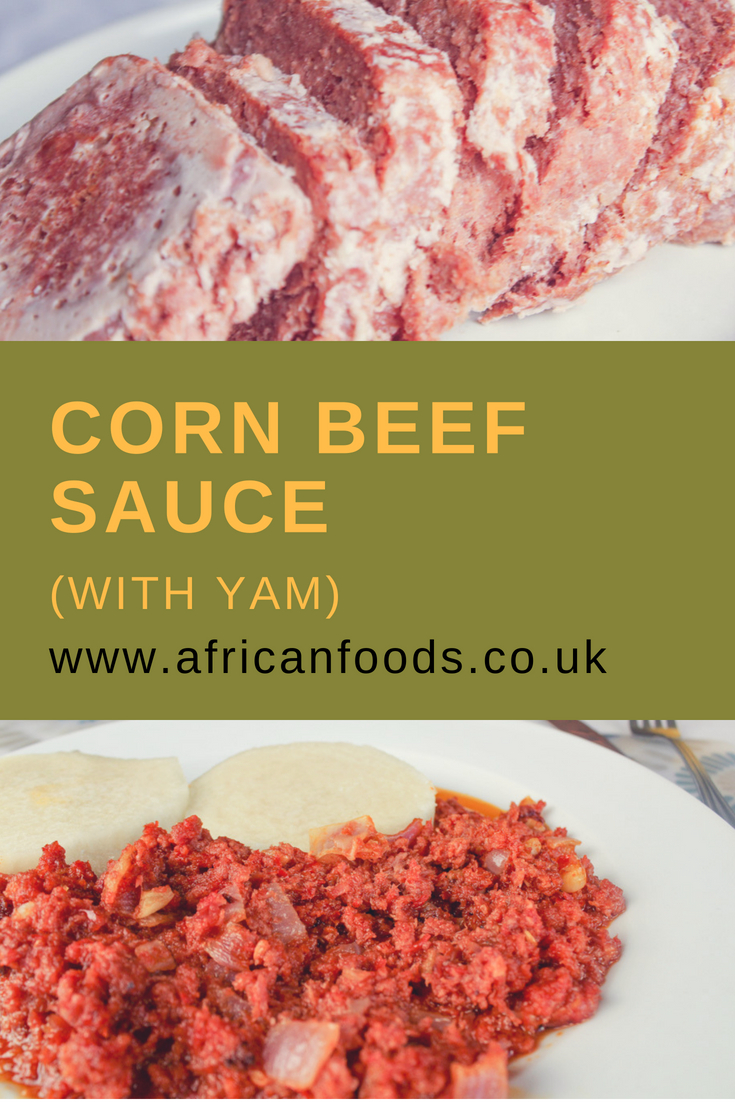 Corned beef is meat that has been cured from cow products. The part of cow commonly used is the brisket or other similar cut.
Many grocery stores carry canned corned beef in 350g can sizes but if you would rather do yours, there are a lot of recipes out there. I have found this a great one here. Alternatively, you can look for something else that works for you.
I find this a very convenient recipe when I have 50 minutes or less to get breakfast or dinner ready. 
So, as you would see from the recipe you can cook this almost simultaneously with your side dish so they would both be ready at about same time and you feed those hungry fellows you have got and yourself of course!

Corned Beef Sauce

| | | |
| --- | --- | --- |
| Servings: 4-6 | Prep Time: 10min | Cooking Time: 30min |
Ingredients
175ml of olive oil
1 Large onion 
1-2 Habanero pepper
2 Bell peppers
2 Cloves of garlic

4 Large plum tomatoes
2 Teaspoons curry powder
1 Teaspoon cayenne pepper
3/4 Teaspoon thyme
1/2 Teaspoon nutmeg
1 350g Can corned beef
Salt to taste
Method
To start, chop onion and blend the peppers,tomatoes and garlic, set aside.
Open the can of corned beed and marsh the beef with a spoon set aside untill needed.
Heat up a heavy based pot and pour in the oil then fry the chopped onion on medium heat. It is good practice to fry onion until translucent but keep an eye so it does not get burnt. This step contributes to the overall flavour of any dish that follows this. So you need to get it right. 6-8minutes
Stir in the spices allow to cook for 2 minutes before next step.
Pour in the pepper mixture then, allow to cook uncovered for about 15 minutes at medium heat.
Stir in the corned beef and reduce heat to medium low for the rest of the cooking. 10minutes.
Add salt if you wish but corned beef is cured meat already salted so be sure you really need salt and adjust to taste.
Serve in immediately and store leftovers in the fridge for not more than 5days.
Recipe provided by www.AfricanFoods.co.uk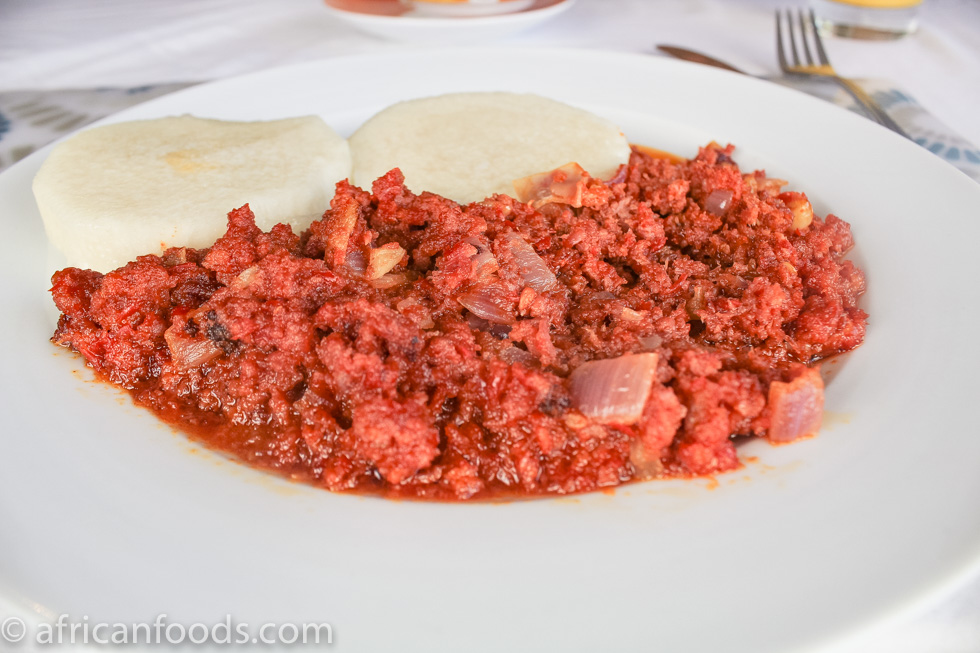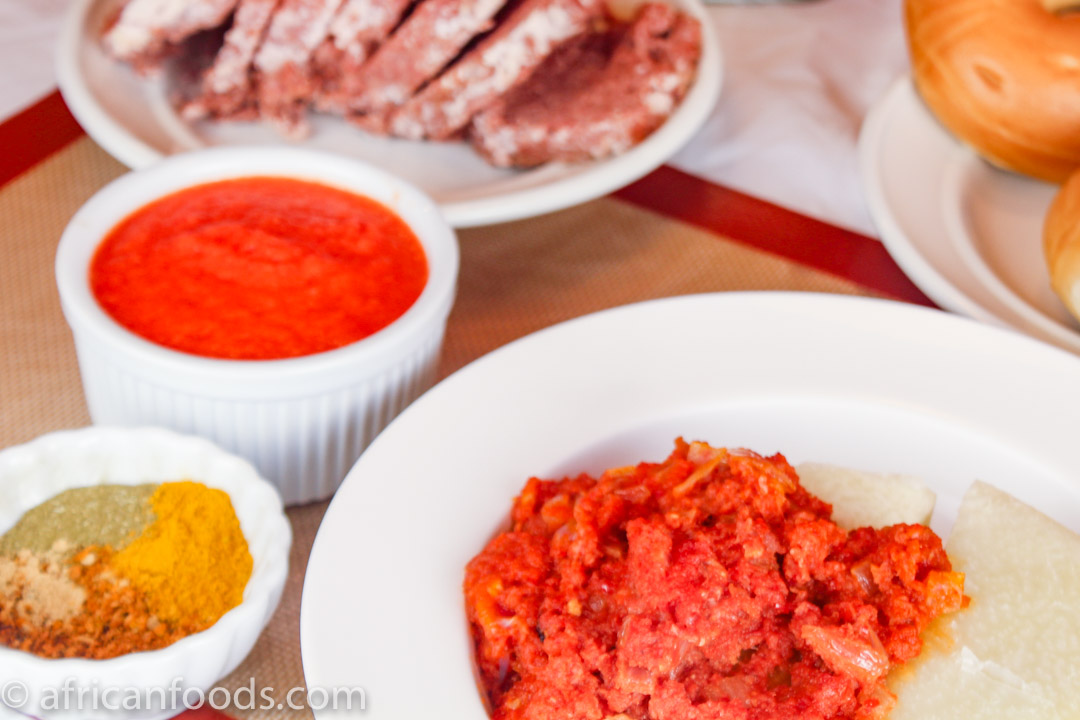 Want regular updates on African cuisines and food recipes? What about unique health information about these foods - what to eat and avoid to keep healthy from the list of African recipes available? 
Fill in the form below to subscribe to our Newsletter - AfricanFoods Weekly?
Worried about spamming? We are too. We will never ever give or pass on your information to anyone else. We will only use your email address to send you your copy of our weekly newsletter. We do have a zero tolerance to spam. We subscribe to a very strict policy on the handling and use of information we gather on this site! We also get paid for affiliate links on this site. See our  privacy policy  for further details. 
Follow us on social media:
Get Our Weekly Newsletter. Subscribe Today. It's FREE.

Subscribe to African Foods Weekly
Get African food recipes, cooking tips, and healthy eating info  delivered to your inbox every week. Simply fill in your email below and click SUBSCRIBE .

(Your information will not be shared)