Easy Crock Pot Meals 
Savour the Flavours of African Food Made in a Slow Cooker

We know you're busy, so we've prepared these easy crock pot meals to help you cook authentic African dishes any day of the week while saving time in the kitchen. 

Simply add recipe ingredients to the pot and let the flavours simmer while you're at work or spending time with the family.
African foods are traditionally slow cooked in tajines and cast iron pots, so the crock pot is the perfect modern appliance to replicate authentic African recipes.
Like cooking in a tajine, most dishes require less fat to maintain moisture, so your meals can be healthier too.

And, you'll save on energy because you won't have to fire up the oven or the stove. A win, win all around. But, the proof is in the flavours...
Who can resist a hearty bowl of African peanut stew or slow cooked barbecue chicken? It's QUICK, EASY, and DELICIOUS in a crock pot.



Easy African Peanut Soup in a Crock Pot


Ingredients
2 tablespoons olive oil 
1 chopped onions 
1 chopped red bell pepper
2 cloves chopped garlic 
2 diced tomatoes 
32 oz vegetable stock 
6 TBL spoons peanut butter 
1/3 cup rice
Spices
Ground pepper
Chili powder
Cayenne powder 



Cooking Time
Ethiopian Vegan Peanut Curry Crock Pot Recipe


Ingredients
5 cloves chopped garlic
1 1/2 Tbs chopped ginger
2 cups chopped cabbage
1 medium chopped sweet potato
2 chopped tomatoes
1 cup chopped carrot
1 medium chopped red onion
1 1/2 cups chopped kale
1 can of tomamto paste
6 cups of water
1/2 cup peanut butter
1/2 cup peanut butter powder
Cane sugar


Spices
Coriander
Cinnamon
Cardamom
Black pepper
Sweet paprika
Turmeric
Cloves
Nutmeg
Cayenne pepper

Cooking Time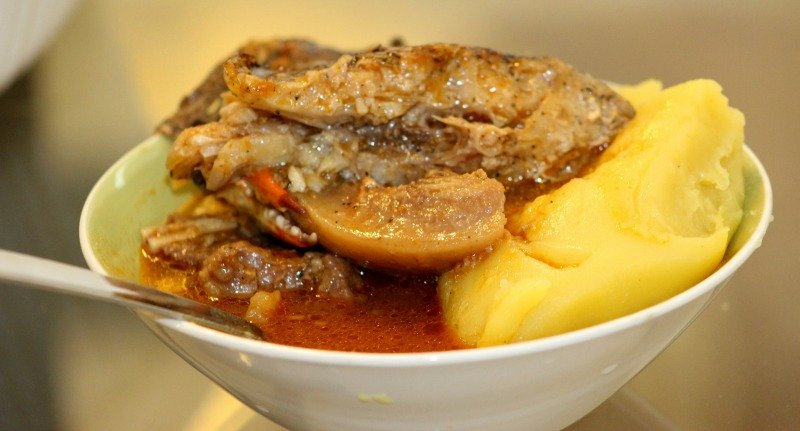 Hot Bowl of African Soup

More African Crock Pot Recipes
Crockpot Jollof Rice
African Peanut Soup
African Sweet Potato Stew
South African BBQ Chicken
Spicy Harissa Chicken
Vegetarian Stew


Slow Cooker BBQ Chicken
Groundnut Stew with Chicken
North African Couscous
Chicken Tagine
African Pulled Beef
Braised Oxtail



Benefits of Slow Cooking Food in a Crock Pot

1. FLAVOUR
Slow cooking enhances the flavour of food. Because crock pots cook for a long time at a low temperature, they bring out the flavour of the dish more than other cooking methods might.
The smell of food that has been simmering all day is so welcoming when you return home from a busy day at work.
2. HEALTHY
Since the food cooks in it's own juices, less fat is needed and dishes are healthier.
Foods cooked in crock pots retain more of their vitamins and minerals.
The simplicity of cooking will keep you eating at home rather than opting for unhealthy fast food takeout.
3. SAVES TIME
A one pot meal means there are less dishes to clean up.
You can do other things while the food is cooking.
4. SAVES MONEY
Crock pots use less energy than ovens and stove tops. 
Less expensive meats can be used because tougher meats are tenderized during the slow cooking process.
There's less chance of burning or over cooking food, so there's no waste.
Cooking in a crock pot won't heat up your kitchen in the summer, so you'll save on cooling.
5. CONVENIENT
You don't have to watch over the cooking process like you do when using the stove. Simply add the ingredients into the pot before you go to work and your meal is ready when you get home.
Crock pots make it easy to prep and bring a dish to a potluck or party while keeping the food hot.
When cooking for a large group, having a dish in the crock pot frees up space on the stove top.
Let's Get Crocking!


Want regular updates on African cuisines and food recipes? What about unique health information about these foods - what to eat and avoid to keep healthy from the list of African recipes available? 
Fill in the form below to subscribe to our Newsletter - AfricanFoods Weekly?
Worried about spamming? We are too. We will never ever give or pass on your information to anyone else. We will only use your email address to send you your copy of our weekly newsletter. We do have a zero tolerance to spam. We subscribe to a very strict policy on the handling and use of information we gather on this site! We also get paid for affiliate links on this site. See our  privacy policy  for further details. 
Follow us on social media:
Get Our Weekly Newsletter. Subscribe Today. It's FREE.

Subscribe to African Foods Weekly
Get African food recipes, cooking tips, and healthy eating info  delivered to your inbox every week. Simply fill in your email below and click SUBSCRIBE .

(Your information will not be shared)