Afang Soup Recipe
Afang soup is a delicacy of the Ibibios and the Efiks in Akwa Ibom and Cross River State of Nigeria. It is prepared from shredded afang leaves, "water leaf" (Talinum triangulare) and an assorted selection of smoked fish, stock fish, meat and crayfish. Served with fufu, gari, or pounded yam, it is a truly delicious authentic African food.

Afang soup is a vegetable sauce highly rated by many Nigerians. Traditionally, a delicious sauce popular in eastern Nigeria. It is a must in many ceremonies in the Igbo, Effik, and Ibibio speaking parts of Southern Nigeria, including weddings, the christening of newborn babies, or even at funerals.
Afang is also popular in the Congo, where it is called Mfumbwa. And the Cameroonians call it Eru.
The secret ingredient that lends the Afang vegetable sauce to its unique taste is the Okazi or Afang leaf. Afang leaves (Gnetum Africana ) can also be eaten raw as prepared by the Igbos in the famous African Salad "Ugba." 
For this sauce, besides the afang you need another amazing vegetable known as waterleaf. Waterleaf or fame flower is very similar to the spinach and great source, vitamin A, C, calcium, and iron. The botanic name is the Talinium Triangulare. Waterleaf is popular in many countries in West Africa, Central African, some southern parts of the USA, but mostly cultivated in Cameroon and Nigeria.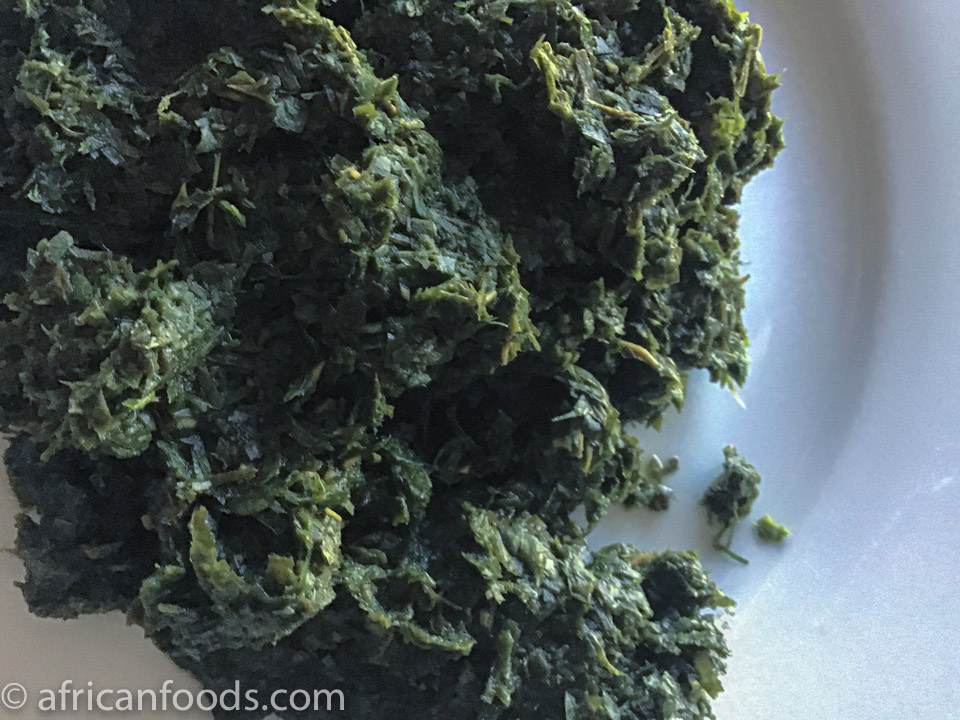 Afang soup

| | | |
| --- | --- | --- |
| Servings: 8-10 | Prep Time: 30min | Cooking Time: 1hour 30min |
Ingredients
1.5 kg of Okazi or Afang leaves ( Gnetum africana )
1 kg of edible Water leaves (Talinum triangulare )
1 cup of palm oil (traditionally a lot more is used but for health reasons reduce fat intake)
2 medium sized dried fish
6-8 tablespoons of Crayfish
2 knorr Cubes
1.5 Kg of assorted Meat  ( goat meat, cow leg or cow tail)
1 medium size finely chopped onions
2-3 tablespoons of grounded dried cayenne pepper
1 - 2 medium cups of Periwinkle (with shell removed )
stockfish head
clam - optional
salt to taste
Method
Take off the fresh Afang leaves from the stem and wash and dry them in the sun. While these are drying,  do same for the water leaves but no drying them out but slice them. Once Afang leaves are dry, chop finely and set aside.
Wash assorted meat, periwinkles(thoroughly cleaned) and clams.
Season meat, stockfish head, periwinkles, and clams, with onions, pepper, and salt then, set aside in separate bowls
Transfer the cow leg / tail into a pot with 1 .5 litres of water to cover the meat and place on stove. Cook for about 40 minutes with no salt until it is nearly soft.
Now transfer already seasoned goat meat and stock fish and prepared periwinkle and clams if using in the pot with the cow tail and cook for another 20-30 minutes or until meat is soft and tender
While meat and fish are cooking, transfer the sliced afang leaves into a mortar and pound with pestle into a paste. The afang leaves are a little tougher than other vegetable leaves so might take at least 10 minutes of constant pounding. Turn the pounded afang leaves into a bowl and set aside

When meat is cooked, add palm oil, knorr cubes, crayfish, dry fish and periwinkle, to meat stock, stir with cooking spoon and allow to boil till oil blends with the stock. That should take about 8mins.

Stir in the water leaves, cover the pot with the lid and allow to steam for about 2 mins, then add the Afang leaves, stir and cover the pot. Allow to simmer for about 5 minutes and turn off the heat then, serve with fufu, Pounded yam or garri.
Note: If clams and periwinkles are not your thing, use any seafood combo of you choice.
Recipe provided by www.AfricanFoods.co.uk
Nutritional Value of Afang Soup

The Afang leaf itself serves as a dietary fiber which helps in proper digestion. It gives a bulk feeling, vital for a good weight control diet. It also contains Vitamin A (from the palm oil used), Vitamin E, C and potassium, iron and calcium. 
These are essential ingredients for good eye site, fresh and youthful skin, strong bones, good heart function and general good health and immunity.
This soup, like all other African food soups, is highly nutritious, since it contains a copious blend of vegetables, fish and or meat, along with needed lipids, minerals and vitamins.
Afang Soup Recipe. Share Yours Here
Do you have a great or special recipe for afang or okazi soup? Our readers would be very pleased to try your way of cooking this very rich and nutritious Nigerian vegetable soup. You can had pictures or videos and your name to it and share it here!
Want regular updates on African cuisines and food recipes? What about unique health information about these foods - what to eat and avoid to keep healthy from the list of African recipes available? 
Fill in the form below to subscribe to our Newsletter - AfricanFoods Weekly?
Worried about spamming? We are too. We will never ever give or pass on your information to anyone else. We will only use your email address to send you your copy of our weekly newsletter. We do have a zero tolerance to spam. We subscribe to a very strict policy on the handling and use of information we gather on this site! We also get paid for affiliate links on this site. See our  privacy policy  for further details. 
Follow us on social media:
Get Our Weekly Newsletter. Subscribe Today. It's FREE.

Subscribe to African Foods Weekly
Get African food recipes, cooking tips, and healthy eating info  delivered to your inbox every week. Simply fill in your email below and click SUBSCRIBE .

(Your information will not be shared)