Baked Fish
Baked fish is a super healthy way of getting your two portions of fish a week, which is the recommended portion by many medical authorities like the NHS.
It is common to have fish roasted, fried, or dried in Africa. Over the years, I have come to favor baking or broiling(upside down grill) to the other methods because with these two, I use less fat, which is healthy.
Atieke is made from peeled, grated and fermented cassava roots, an everyday staple in West Africa. It is a favorite side dish from Ivory Coast. It has a texture similar to couscous and a healthy alternative for any on a gluten-free diet. It is a simple, easy to prepare meal, readily available in most African food shops. Just follow packet instructions.

Atieke is usually served with grilled meat or fish along with vegetables. The Ivorians sometimes add a tomato sauce or onion and tomato salad sides as well.
How To Cook The Baked Fish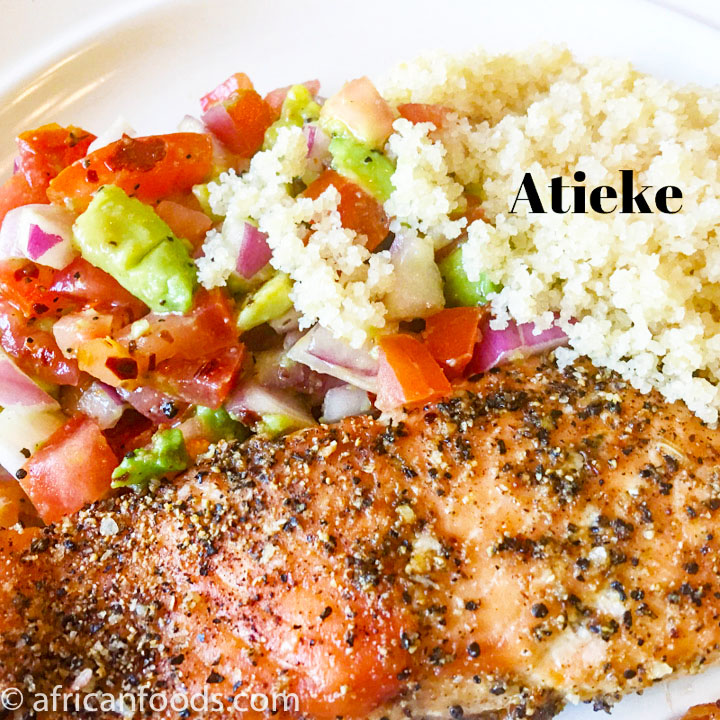 As mentioned earlier the atieke is pretty staright forward, you only need water and the atieke and follow packet instructions. However, the baked fish requires a bit of work but easy to do. 

Baked Fish

| | | |
| --- | --- | --- |
| Servings: 4 | Prep Time: 10min | Cooking Time: 20min |
Ingredients
4  0.7-1inch salmon or tilapia fillet
1/4 tablespoon olive oil
Juice of one lemon(optional but lemon and fish are good together)
1 teaspoon garlic powder
1 teaspoon thyme
1 teaspoon cayenne pepper flakes
1/2 teaspoon black pepper
Salt to taste



Method
Turn on the oven and set to 425F.
Place aluminum foil inside an oven proof pan and grease the inside. 
Transfer the greased pan to the oven to heat it while you prepare the marinade.
In a bowl combine all the ingredients except the fish.
Use your fingers or a brush to rub the marinade all over the fish.
Place fish on the heated oven pan, skin side down and bake for 20 minutes it should be golden brown or as soon as it flaked when you pierced in a fork gently.
Note: For every 1/2 inch of fish I cook for 10minutes for the desired taste and doneness I require you could adjust reducing the time if you would rather not have it this done. 
Pat drying the fish with paper towels before rubbing in the marinade is a great practice.
Also for marinating fish, leaving it in the fridge to let the marinade penetrate the fish is advisable for best results.
Recipe provided by www.AfricanFoods.co.uk
Want regular updates on African cuisines and food recipes? What about unique health information about these foods - what to eat and avoid to keep healthy from the list of African recipes available? 
Fill in the form below to subscribe to our Newsletter - AfricanFoods Weekly?
Worried about spamming? We are too. We will never ever give or pass on your information to anyone else. We will only use your email address to send you your copy of our weekly newsletter. We do have a zero tolerance to spam. We subscribe to a very strict policy on the handling and use of information we gather on this site! We also get paid for affiliate links on this site. See our  privacy policy  for further details. 
Follow us on social media:
Get Our Weekly Newsletter. Subscribe Today. It's FREE.

Subscribe to African Foods Weekly
Get African food recipes, cooking tips, and healthy eating info  delivered to your inbox every week. Simply fill in your email below and click SUBSCRIBE .

(Your information will not be shared)