Banga Soup
Banga soup (also called palm nut soup) is a soup made from the sauce squeezed from palm fruit (Elaeis guineensis). Yes. you can still eat banga whether you are in Sapele, Lagos or London.
It is widely eaten all over West Africa to the Cameroon.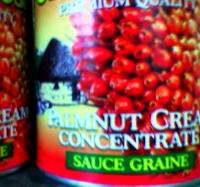 In Nigeria, banga (palm nut)soup cuisine is more commonly enjoyed by the people of Delta State, especially the urhobos and itsekiris, who call it amiedi and obey-ekpo respectively.
The Yoruba call it obe eyin.
In Cameroon, it is referred to as Mbanga soup.
This delicious African food is incredibly highly rich in nutritional value.
Apart from the contribution of nutrients from the other ingredients used in preparing palm nut soup, the palm nut sauce itself has been acclaimed world over to be very rich nutritionally.
The sauce is traditionally made from palm fruit by boiling about 100 – 200 palm fruits in a pot with water for about 20 minutes until the pulp becomes soft.
It is then pounded in a mortar with the aid of a piston. The sauce derived is then strained from the kernel nuts and skin (shaft of the palm fruit).
Here in the UK, you can get this soup sauce as palm nut fruit juice sauce concentrate: pre-prepared and canned. It is imported mainly from Ghana, and Ivory Coast. Popular preparations include Trofai, Ghana Best and Ghana Fresh. You can get any of these preparations from your African foods shop here.
Nutritional Value
Palm oil in banga soup is very rich in vitamin K, magnesium, and vitamins A and E. It is free of cholesterol.
It also contains powerful natural anti-oxidants that help in protection against cancer. It guarantees to give your skin a fresher look and lowers your cholesterol level, thus protecting against heart diseases.
Please read more on this at the link below, featuring a research findings.
How to Prepare Banga Soup
Banga soup or Mbanga (palm nut) soup is prepared basically the same way all across Africa, though with slight regional or individual variations.
INGREDIENTS
Assorted meat (Goat meat, beef, ox-tail, sharki, bush meat if available)

Smoked (Dried) or Fresh Fish)

Pepper (Dried and ground)

Ataieko and igeriejae spices

Onions

Curry and thyme

Salt

Okro or egusi (melon)

Crayfish (dried) or shrimps

PREPARATION
Put the washed and cleaned assorted meat in a pot. Add a few cups of water, onions, curry, thyme, maggi cube seasonings and salt to taste. Bring to boil for about 15- 20minutes.
Add the pre-soaked and washed dried (smoked) fish and boil for another 5 minutes.
Now add the palm nut cream sauce and add about one and a half part water to a can of the palm nut sauce. Add about one to two tablespoonful of dried pepper according to how much pepper or hot spice you can tolerate.
Include tomatoes puree, grounded onion, maggi cubes and dried crayfish. For real exotic African taste, add about half teaspoonful of grounded ataieko and igeriejae spices. Some would include dried bitter leaf. Add salt again, to taste.
Allow to boil for another 10 -15 minutes.
Some would add okro to thicken the soup if using dried fish, or grounded egusi (melon) if using fresh fish.
You may also decide to use chicken.
By now you would already be overwhelmed by the unique and appetizing aroma from your banga soup pot!
Serve banga soup with pounded yam, or garri, or elubo / amala, or fufu. A glass of orange juice or palm wine will be great to go with this delicacy.
Where to Buy Banga Fruit Sauce
Are you looking for where to buy banga fruit sauce from?
We stock every items and ingredients here needed to prepare banga soup.
Please do not hesitate to contact us should you have any question or need regarding how to prepare this delicious African cuisine or where to get materials for it.