Meatless Basmati Rice Recipe
Basmati rice, this recipe is enhanced by the natural rich, nutty flavour of this popular long grain rice. It might soon become your family's favourite recipe.

Basmati rice is one of the best-known rice. It is a type of long-grain rice and the longest of all the other rice. Like plain long grain rice, you could have white or brown basmati rice. Brown rice is the best kind of rice to eat as they retain all their nutrients. Whereas white rice contains only the endosperm, thus, fewer nutrients. More on wholegrain or brown rice at a later post.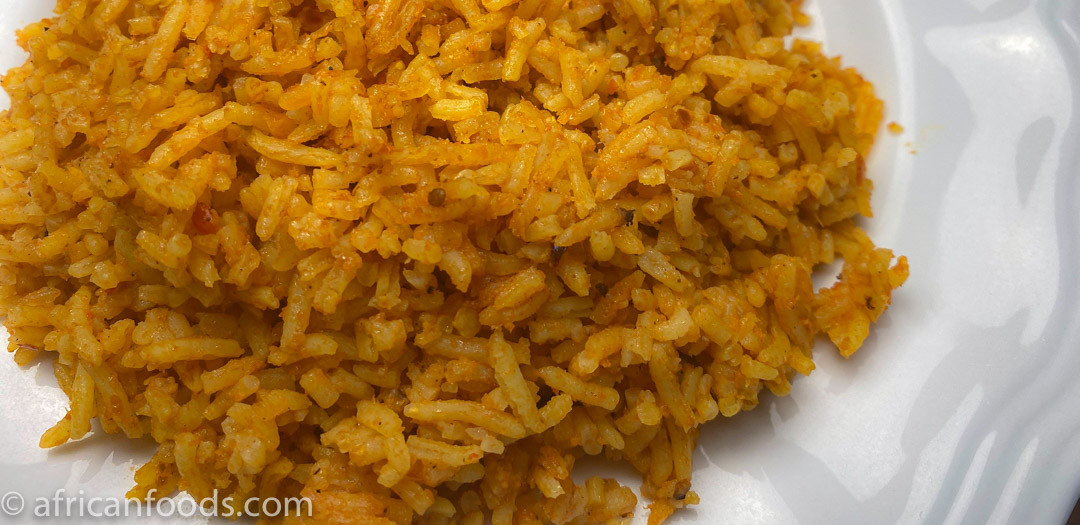 Basmati rice has a rich, nutty flavour and it is usually more expensive than plain white rice. The reason is that it takes a longer time to process basmati rice. Depending on quality, basmati rice has about one to two years of processing time to age and undergo other processes that give it its nutty flavour.
In any case, high-grade basmati rice is worth all the fuss. In addition to flavour, they are fluffier and stay separate when properly cooked. Their texture and consistency are better than plain white rice. For best results, never pre-soak them as this process is not necessary and ruin the flavour.
This recipe is suitable for vegans and meatless days. Usually, jollof rice is served with either fish or meat. And at times with shrimps. However, Jollof is great on its own with whatever vegetable topping of your choice.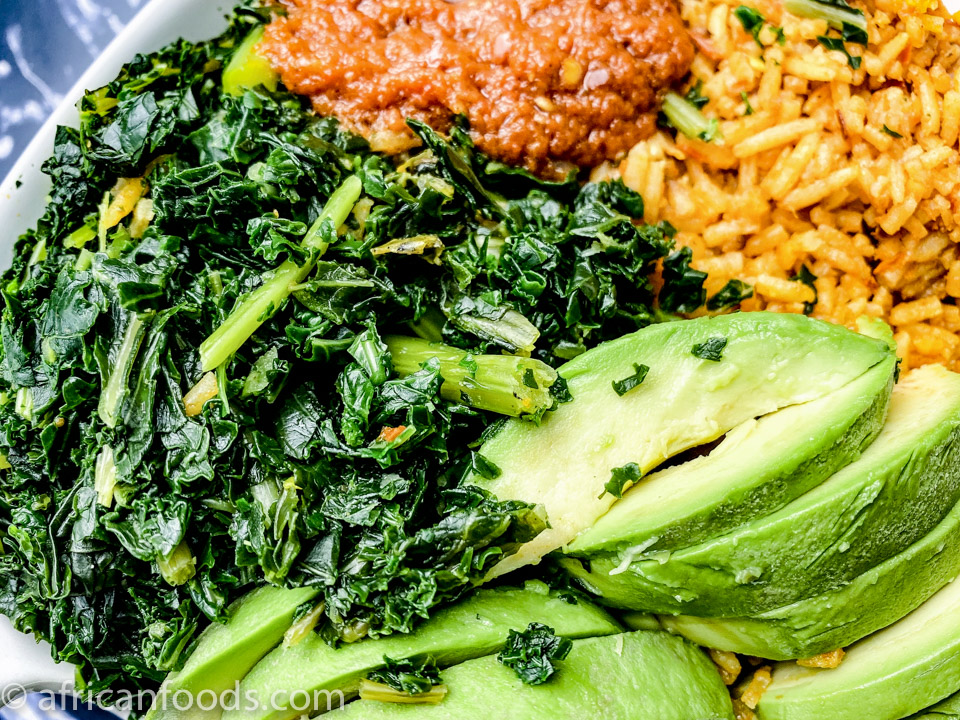 Since the start of this year, we have been discussing the need to eat more of a plant-based diet for a healthier lifestyle. It is even more so if you are battling or predisposed to any chronic illness like diabetes, hypertension, certain cancers and many more. It is amazing how a simple change in diet could reverse certain conditions. It is not easy to make dietary changes but it is always worthwhile.

How To Cook Basmati Rice?
Basmati rice needs less water or liquid than usual white rice. For me, I use 2:1 ratio of liquid to rice. That is 2 cups of liquid for 1 cup of rice. For plain white slightly more liquid. With jollof rice your blend tomato mixture is part of the liquid you will be using to cook the rice so, it is always good to keep an eye on the liquid as you cook. 

Basmati Jollof Rice

| | | |
| --- | --- | --- |
| Servings: 6-8 | Prep Time: 15min | Cooking Time: 40min |
Ingredients
3 cups basmati rice
1 litre of reduced sodium vegetarian stock (homemade better)
1 large onion cut in halves, one half to be blended with tomatoes, the other half finely diced
1/4 cup olive oil
6 large tomatoes
2 bell peppers
1-2 Thai peppers
2 teaspoon curry powder
1 teapoon chilli pepper flakes(optional if you are already using chilli pepper)
1 teaspoon dry thyme
1 teaspoon dry ginger
1/2 teaspoon nutmeg
2-3 bay leaves
Salt to taste
Method
Always start by getting your ingredients ready. Measure quantities and set aside.
Rinse the rice until water is clear to remove starch, drain and set aside.
Blend the tomatoes with the peppers and one half of the onion.
In a large pot, pour in the oil and heat at medium heat.
Saute the diced onion 6-8 minutes or until translucent.
Stir in the herbs and spices to bring out their aroma. 1-2 minutes
Pour in the tomato mixture, and allow to cook for about fifteen minutes or until you see the oil separates from the sauce.
Stir in the drained rice into the tomato mixture, and pour in half of the stock. Cover (seal it up, use foil if it is not properly sealed) the pot and allow to cook for about 15-20minutes.
Check to see if you need more liquid. At this point, you may notice that the rice is beginning to stick to the pot, stir with a wooded spoon. Add more liquid if you want it softer, if not adjust seasoning at this point and turn off the heat when the rice has absorbed all liquid.
If you want it softer, add remaining stock or half of it and continue cooking for another 10 to 15minutes or until cooked to your consistency. Note that in this final stage you need to keep an eye stirring every 3-5 minutes so it does not burn. 
Check for salt and pepper, then turn off the heat. 
Serve immediately.
Recipe provided by www.AfricanFoods.co.uk
Did You Try This Recipe?
Let's see it here or tag me on Instagram? Share it!
Want regular updates on African cuisines and food recipes? What about unique health information about these foods - what to eat and avoid to keep healthy from the list of African recipes available? 
Fill in the form below to subscribe to our Newsletter - AfricanFoods Weekly?
Worried about spamming? We are too. We will never ever give or pass on your information to anyone else. We will only use your email address to send you your copy of our weekly newsletter. We do have a zero tolerance to spam. We subscribe to a very strict policy on the handling and use of information we gather on this site! We also get paid for affiliate links on this site. See our  privacy policy  for further details. 
Follow us on social media:
Get Our Weekly Newsletter. Subscribe Today. It's FREE.

Subscribe to African Foods Weekly
Get African food recipes, cooking tips, and healthy eating info  delivered to your inbox every week. Simply fill in your email below and click SUBSCRIBE .

(Your information will not be shared)