North African-Inspired
Chickpea Curry
If you are looking for a hearty, delicious and easy to cook meal, then, try this chickpea curry. Enjoy the great aroma of the spices and be rewarded with the r they reward you with.

Chickpea curry? Chickpeas or garbanzo beans are legumes. They are highly nutritious and one of the oldest food known to man. They are common staples in Indian and Mediterranean cuisines. Their high protein content makes them great alternatives to meat. So, anyone on a plant-based diet should consider including legumes of all kinds in their diet. Check out why legumes should be a part of your diet here.

Chickpeas are great on their own, when added to salads, pureed into sauces or dips like hummus. Its versatility makes it a favourite amongst legumes. It is a great meal to add to any weight loss program.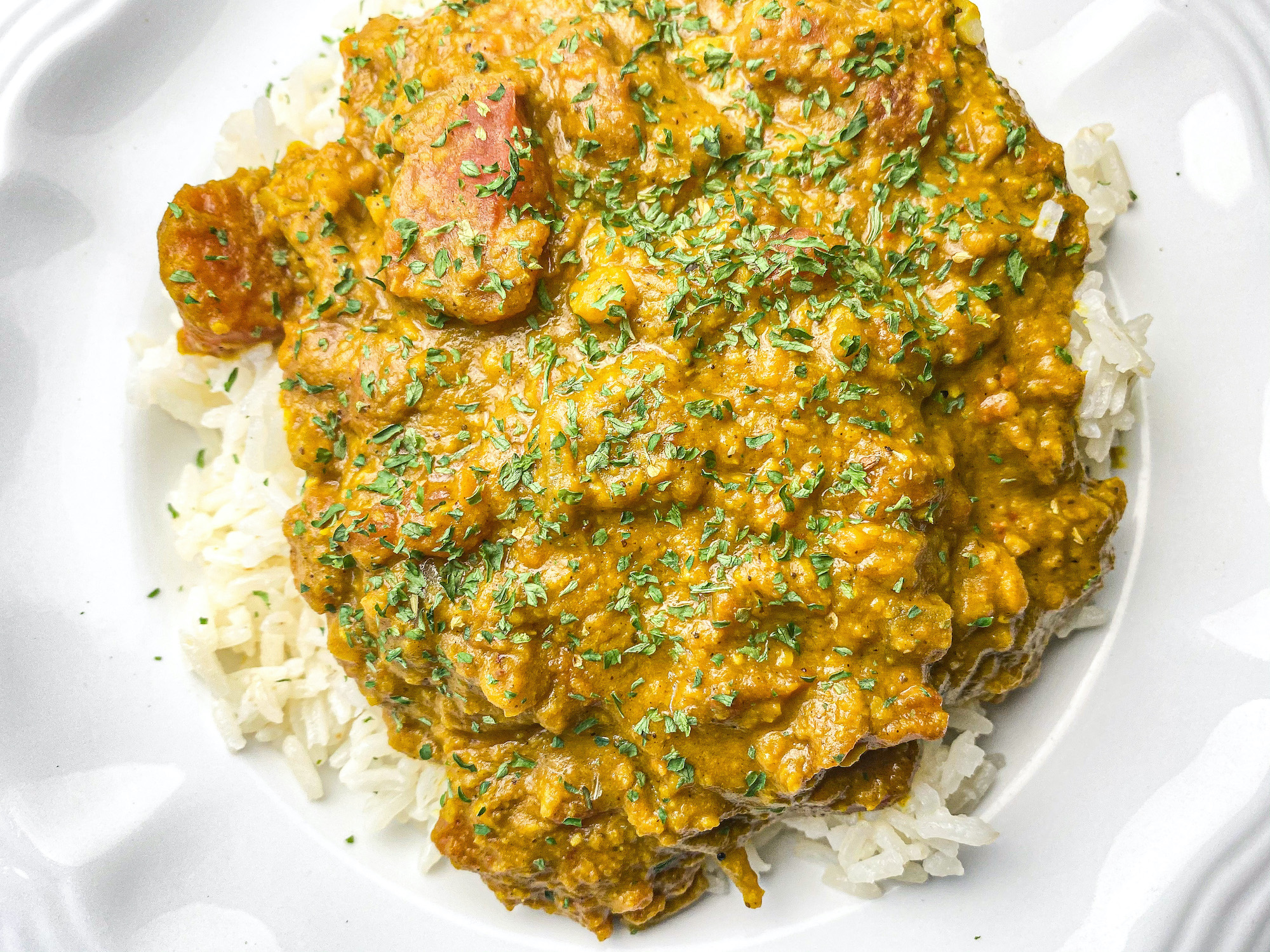 Like every curry sauce, there is a marriage of spices blending in the right proportion for that tasty experience with every bite. I do this in two ways depending on the type of chickpea I have or If I want a mushy sauce I use the split beans. And if I prefer the less mushy one, I go for the whole. My preference is to use the whole beans when I am using meat, but you could use the split one for meat if you prefer that. Now let us go over to the recipe.
Chickpea Curry
Chickpea Curry

| | | |
| --- | --- | --- |
| Servings: 6 | Prep Time: 20min | Cooking Time: 40min |
Ingredients
3 cups cooked split chickpeas
3 tablespoons olive oil
1 small onion, diced
1 14oz can chopped tomato
1 cup coconut milk
1 tablespoon garam masala
2 teaspoon cumin
2 teaspoon coriander 
1 teaspoon sumac
1-2 teaspoons chilli pepper 
6 cloves of garlic minced
1 tablespoons minced ginger
2 teaspoon turmeric
2 teaspoon curry powder
1 low-sodium stock cube crumbled
juice of one lime
salt to taste
Method
I cook dry split chickpeas in instant pot using pressure cooker setting for 20minutes. And allow to naturally release steam. Or cook in pot on stove for about one hour or two or until chickpea is soft and tender.Note, If you cook beans beforehand and freeze, on the day of cooking, you cut off this step. Take it out of freezer at least two days before your intended use to thaw in fridge.
Heat up the oil and fry the onion until it is soft and translucent.
Stir in the minced ginger, garlic and the other spices and herbs, 2-3 minutes.
Stir in the chopped tomato and allow to cook for about 10 minutes.
Stir in your cooked chickpeas and allow to simmer another 10 minutes before pouring in the coconut milk. 
Continue to simmer for another 5 minutes and add your squeezed lime juice.
The lime adds heat and zesty flavour to finish up your cooking. When sauce is thickened to your desired consistency, turn off heat.
Serve immediately on a bed of rice.
Recipe provided by www.AfricanFoods.co.uk
Did You Try This Recipe Share Here Or Tag Us On Instagram?
Do you make this? Share it!
Want regular updates on African cuisines and food recipes? What about unique health information about these foods - what to eat and avoid to keep healthy from the list of African recipes available? 
Fill in the form below to subscribe to our Newsletter - AfricanFoods Weekly?
Worried about spamming? We are too. We will never ever give or pass on your information to anyone else. We will only use your email address to send you your copy of our weekly newsletter. We do have a zero tolerance to spam. We subscribe to a very strict policy on the handling and use of information we gather on this site! We also get paid for affiliate links on this site. See our  privacy policy  for further details. 
Follow us on social media:
Get Our Weekly Newsletter. Subscribe Today. It's FREE.

Subscribe to African Foods Weekly
Get African food recipes, cooking tips, and healthy eating info  delivered to your inbox every week. Simply fill in your email below and click SUBSCRIBE .

(Your information will not be shared)