Efo Riro
Efo riro is one of my go-to meals when I am hard pressed for time. Who is not these days? With so many things competing for our attention, many moms would want some easy to make dinners without compromising on nutrients and quality. If that is you, then, this efo riro may soon become a favourite family dinner. 
Efo riro is a vegetable sauce, a delicious sauce enjoyed by the Yorubas from Western Nigeria. It is nutritious, gluten free, dairy free, fast and easy to cook. Best served with iyan, pounded yam or any fufu of choice.

The word efo, in Yoruba, means vegetables and riro is stir which is kind of explaining the process of preparation of this sauce. It merely means vegetable that is stir-fried in pepper sauce.

The preferred vegetable used for this sauce is shoko, a leafy green (check the benefits of including this as part of your diet), native to Nigeria. Another alternative is tete, also native to Nigeria. They are both similar to spinach and highly nutritious. The vegetable is usually blanched, chopped then, added to the pepper sauce.
In addition to peppers and the vegetables used, other ingredients may include: crayfish, palm oil, panla (stockfish), dried fish, iru( fermented locust beans) and any meat of choice. 
Now let's start cooking!
How To Cook Efo Riro
Efo Riro
| | | |
| --- | --- | --- |
| Servings: 6 | Prep Time: 10min | Cooking Time: 40min |
Ingredients
1/4 cup palm oil(olive oil would work as well)
3 large bell peppers
3 jalapeno peppers
1-2 bird's eye or Thai chili (add more if you can tolerate the heat)
1 small onion(chopped)
1 tablespoon iru (skip if you cannot stand the smell)
2 tablespoons tomato paste
2 tablespoons grounded crayfish (skip if you are vegan)
2 chunks of dried fish (check the dry fish page for how prepare this for use or use leftover grilled or roasted chicken or fish)
1 stock cubes (optional, leave out if you cannot stand them)
Cooked meat and fish as desired
1.5kg of chopped spinach (mine was frozen and I poured boiling water over it and squeezed out most of the liquid)
Salt to taste
Method
Place the bell peppers, jalapeno and Thai peppers in a food processor or blender, and blend then, set aside,
Heat a heavy based pot or skillet and pour in the palm oil to melt and just when it starts smoking a bit stir in the chopped onion to fry 4-5 minutes

Stir in the iru and stock cubes if using, and tomato paste stirring for 1-2 minutes

Now, pour in the blended peppers and allow to cook for about 15minutes or until you can see the oil settling at the top of the sauce.
Add the crayfish and dried fish or grilled meat if using and continue cooking for 10 minutes stirring often.
Stir in the chopped spinach and cook for a further 5 minutes, do not overcook the spinach.
Serve on a bed of rice, or with pounded yam and any fufu 
Stays in fridge for up to 3 days
Recipe provided by www.AfricanFoods.co.uk
More Pictures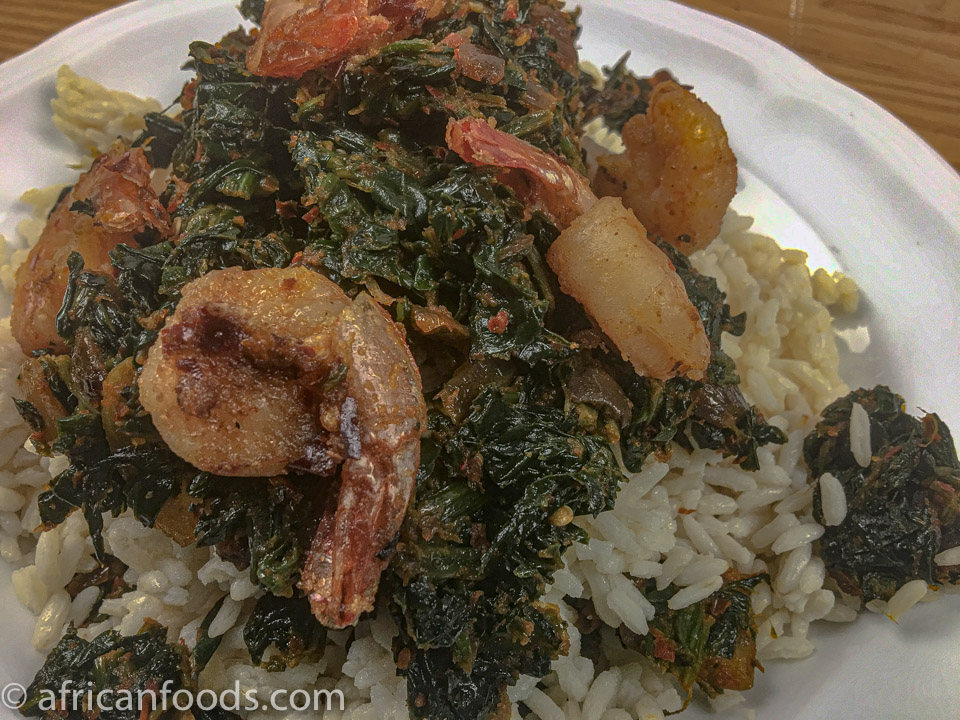 Eforiro served on a bed of rice.
More On Eforiro
As mentioned earlier, the preferred leafy green for eforiro shoko, and it is not available outside of Nigeria. Any green vegetable would do. Besides spinach, collards green or kale are great substitutes. However, their stems are tough and chewy, so use only the leaves and take out the stem. You could either use fresh or frozen, soak for a minute or two in boiling water allow to cool and squeeze out excess liquid. Then, add to pepper sauce.
If mushrooms and prawns are your things, use them instead of meat or fish.
Palm oil is the preferred oil used in most of West Africa if you prefer to use olive oil, it works. Try this recipe and send me photos on Instagram.
Want regular updates on African cuisines and food recipes? What about unique health information about these foods - what to eat and avoid to keep healthy from the list of African recipes available? 
Fill in the form below to subscribe to our Newsletter - AfricanFoods Weekly?
Worried about spamming? We are too. We will never ever give or pass on your information to anyone else. We will only use your email address to send you your copy of our weekly newsletter. We do have a zero tolerance to spam. We subscribe to a very strict policy on the handling and use of information we gather on this site! We also get paid for affiliate links on this site. See our  privacy policy  for further details. 
Follow us on social media:
Get Our Weekly Newsletter. Subscribe Today. It's FREE.

Subscribe to African Foods Weekly
Get African food recipes, cooking tips, and healthy eating info  delivered to your inbox every week. Simply fill in your email below and click SUBSCRIBE .

(Your information will not be shared)