Jollof With Brown Rice
I never imagined years ago that Jollof with brown rice will ever be a thing to consider. But I am glad I did look into it and here is a recipe for you to try.

When I was growing up, long grain white rice was the favourite and still is for many famillies. Whole grain rice was looked down upon as dirty and not good-looing. In fact some of us erroneusly thought the white rice gives us more in terms of nutrients. How wrong!
Thankfully, today, brown rice is gradually gaining popularity as the healthier option. If you live in Nigeria, Ofada rice is in this category. It is healthier option as it retains all its nutrients. Brown rice may help reduce the risk of type 2 diabetes. You will love this Jollof with brown rice.
In my previous post, I described the brown rice journey over the years and why it is not so popular with many. I also included a recipe on how to cook whole grain rice. You may want to check out that post here. For now let us go over to this recipe, jollof with brown rice.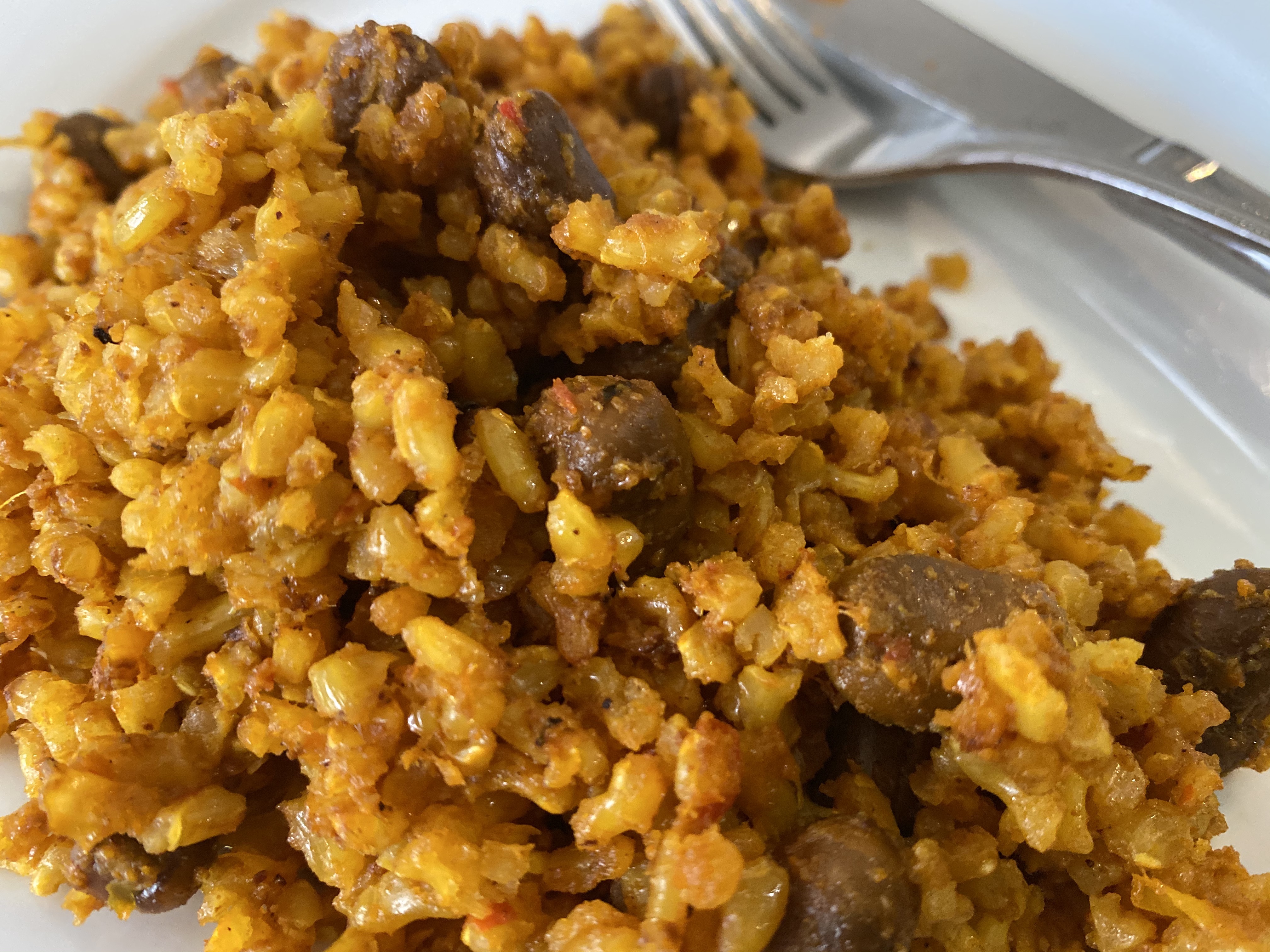 How To Cook Jollof With Brown Rice.
How To Cook Jollof Rice With Brown Rice

| | | |
| --- | --- | --- |
| Servings: 6 | Prep Time: 40min | Cooking Time: 40min |
Ingredients
4 cups whole grain rice of choice
3/4 cup of olive oil
1 large onion, dice half and blend other half with pepper
2 large bell peppers
6 large roma tomatoes
1-2 chilli pepper of choice
2 tablespoons of tomato paste
11/4 litre chicken stock
5-6 cloves of garlic minced
2 teaspoons of minced ginger
3 teaspoons of curry powder
1/2 teaspoon nutmeg
1 teaspoon thyme
1 teaspoon chiili pepper flakes(optional only add if you need extra heat)
2-3 bay leaves
2 14 oz can of fava beans or any beans of choice, drained and rinsed to get rid of excess sodium
salt to taste
Method
Get all ingredients sorted out first. Blend the tomatoes, peppers and half onion, then set aside.
Rinse the rice and transfer to a pot, pour in water about 2-3 inches. Boil the rice for about 20-30 minutes, rinse with cold water, then, set aside.
While you are waiting for the process above, in another pot, heat the oil and saute the diced onion 6-8 minutes on medium-high.
Stir in the garlic, ginger and the other spices and herbs. 2-3 minutes
Stir in the tomato paste, for about 3-4 minutes
Pour in the tomato mixture. Allow cooking for about twenty minutes without the lid on. The reason is to release as much of the moisture from the tomatoes as possible. This reduces the natural acidity of the tomato sauce and improves the taste of your sauce. You could also add a bit of salt at this point, as salt also helps with getting rid of the moisture.
Add your partially-cooked rice at this point with half the chicken stock, cover the pot (always use a pot with a tight lid for rice as you need to trap the moisture inside the pot this time, to cook the rice). Allow cooking for 40-50 minutes depending on the type and age of rice. After the first twenty minutes, it gets tricky as jollof rice burns fast. If the rice has absorbed its liquid continue to add remaining stock as needed and stir the rice. Reduce heat slightly and continue the process until the rice is cooked to your desired consistency. As soon as the rice is tender, stir in the beans, cook for another 10 minutes and turn off the heat.
Serve immediately.
Recipe provided by www.AfricanFoods.co.uk
If you tried this recipe, let's know how you got on with it. Share photos here or tag me on instagram.
Did You Try This Recipe Share Here Or Tag Us On Instagram?
Do you have a picture? Please share it!
Want regular updates on African cuisines and food recipes? What about unique health information about these foods - what to eat and avoid to keep healthy from the list of African recipes available? 
Fill in the form below to subscribe to our Newsletter - AfricanFoods Weekly?
Worried about spamming? We are too. We will never ever give or pass on your information to anyone else. We will only use your email address to send you your copy of our weekly newsletter. We do have a zero tolerance to spam. We subscribe to a very strict policy on the handling and use of information we gather on this site! We also get paid for affiliate links on this site. See our  privacy policy  for further details. 
Follow us on social media:
Get Our Weekly Newsletter. Subscribe Today. It's FREE.

Subscribe to African Foods Weekly
Get African food recipes, cooking tips, and healthy eating info  delivered to your inbox every week. Simply fill in your email below and click SUBSCRIBE .

(Your information will not be shared)