Why You Should Consider Adding
Millet To Your Diet.
Millet is classified as an ancient grain because it has remained unchanged from what it was thousands of years ago. It is indigenous to Africa and India where it has been a regular staple for centuries. The most popular species is the pearl millet cultivated in Northern Nigeria and India. it is currently gaining popularity everywhere and for the right reasons. It is packed with nutrients, rich in fibre, has a low glycemic index, and it is gluten-free.

Millet is the dry seed of the flowering grass Gramineae. It looks similar to quinoa and feels gritty when you touch it. Taste is very close to rice but are tinier grains. Whereas quinoa is protein, millet is a carbohydrate. When toasted, it gives off a beautiful nutty aroma, and it is very versatile like many other grains in that you can have an endless meal use of them. Like rice, you enhance their taste by adding herbs, spices, oil , milk or stock to them. They also cook faster than rice.
Is Millet Good For Health?
Millet is gaining popularity as the next superfood that everyone is raving about and why?
It is gluten-free. 
A low glycemic index, blood sugar is controlled for a person with diabetes. 
Assists with digestion. 
Rich in dietary fibre which in turn helps lower cholesterol level. 
Help with weight management. 
Reduces inflammation and provides you with a host of nutrients like several B vitamins, vitamins C, E, K, calcium, magnesium, potassium (magnesium and potassium help lower blood pressure), zinc, iron, copper, phenols and antioxidants.
Why You Should Eat Millet?
Millet is a whole grain. Whole grains are the dry seed of flowering grass. Four layers make a grain. They are:
Husk, which is the inedible outer layer.

Bran is the outer edible layer of the grain. The nutty characteristic of grains is in the bran, aa well as fibre.

 Germ is the next layer and the location of the fat.

The endosperm is the interior layer that has all the starch.
For processed grains, the bran and germ are missing leaving just the starchy bit for us. We need all three in our diet. That is why you should look for whole grains instead of refined. For more on whole grains, check this article on WebMD.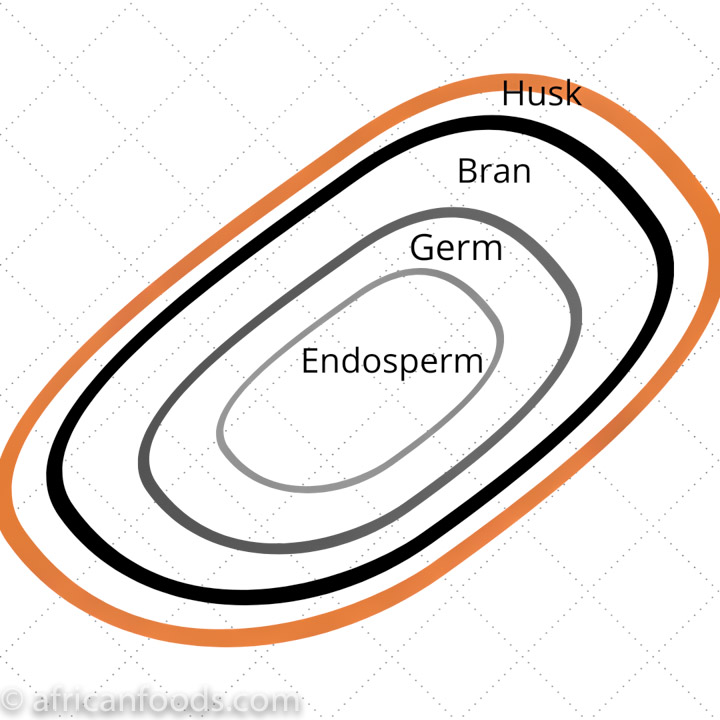 How To Cook Millet?
Millet

| | | |
| --- | --- | --- |
| Servings: 4 | Prep Time: 3-5min | Cooking Time: 25min |
Ingredients


2 cups of millet
5 cups vegetarian stock or water
Method
Generally use 2 1/2 part of liquid to 1 part of millet.
Heat a pot or skillet over medium heat and pour in your millet into the heated pot to toast often stirring until you smell the nutty aroma and it is brownish not black(burnt)
Pour in your liquid and cook on low heat for 10-15 minutes or until millet is soft then fluff with a fork as you would rice.
Serve immediately as a side, in salads, soups or with any sauce of choice.
Recipe provided by www.AfricanFoods.co.uk
How To Cook Millet Porridge?
Millet Porridge

| | | |
| --- | --- | --- |
| Servings: 6 | Prep Time: 3min | Cooking Time: 30min |
Ingredients
1 cup of millet
2 cups almond milk
1/2 cup cooconut milk
Method
Bring almond milk to a boil on medium heat and stir in the millet.
Reduce heat to simmer until liquid is absorbed. That should take about twenty minutes.
Pour in the coconut milk and continue to simmer with the lid on for ten minutes and porridge is ready to serve with your favourite toppings of fruit, nuts and sweetener or honey.
My favourite nuts are cashew and Brazillian nuts; however, use your favourite toppings.
Recipe provided by www.AfricanFoods.co.uk
How To Make Millet Fufu
Millet Fufu

| | | |
| --- | --- | --- |
| Servings: 6 | Prep Time: 3-5 min | Cooking Time: 15min |
Ingredients
1 cup of millet
2 1/2 cups of boiling water
Method
Transfer your millet to a coffee grinder or any dry blending device you have and grind your millet. The ground one is the same texture as ground coffee.
Bring the water to a boil; this should take between 8-10minutes.
Take out half cup set aside in case you need more water.
Stir in your millet into your pot of boiling water and carry on stirring millet continuously as it firms up into a dumpling. Add some more water if you find it to thick to your desired consistency and serve immediately with any vegetable sauce or stew of choice.
If you are familiar with various swallow as we call it in Nigeria( fufu or dumplings) millet fufu has a similar texture as semolina, ground rice and cornmeal swallows.
Recipe provided by www.AfricanFoods.co.uk
Is Millet Better Than Rice?
 Millet belongs to a group of grains called ancient grains. These are grains that have remained unrefined, unaltered through selective breeding and preserved as whole grains. In contrast, rice is one of the grains that have sadly been subjected to selective breeding for years — thereby altering their original structure. Additionally, most of the rice sold in the market is overly processed and devoid of many of their nutrients. The above points put millet ahead of rice in terms of nutrients. If you are eating rice, look for whole-grain rice. They may take longer to cook but more nutritious than their processed counterpart.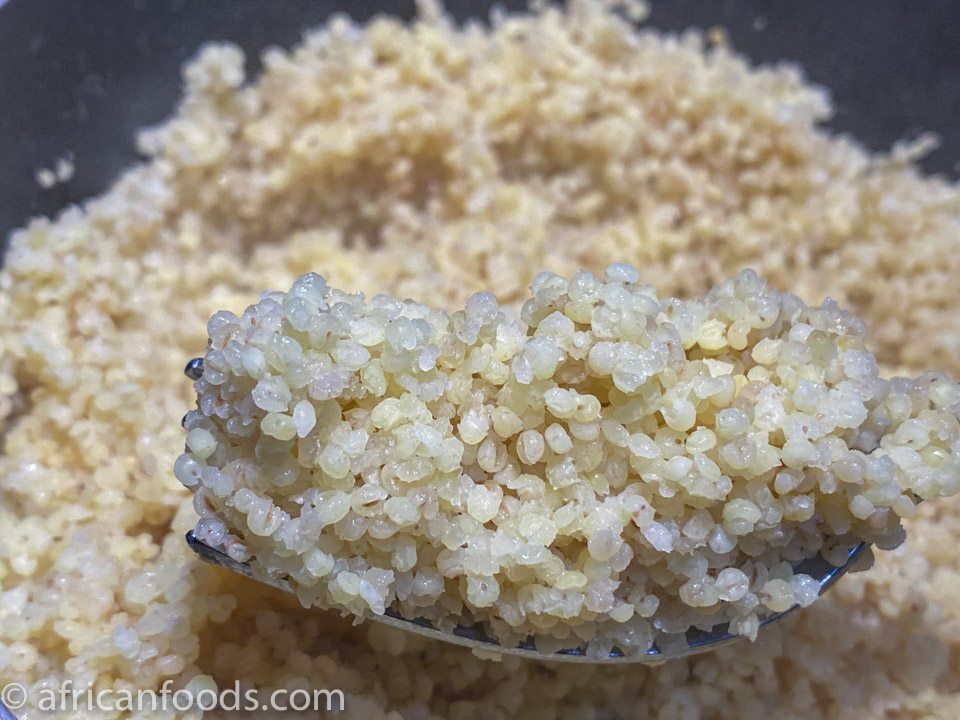 Millet is a great substitute for rice.
What Is Better Millet Or Quinoa
Millet and quinoa are two highly nutritious superfoods. However, millet is mostly carbohydrate, and quinoa is a protein. Both food groups are essential to a healthy diet. Picking one over the other is like having to choose between your arm and your feet. Both are essential and are useful in what they do for us.

If you try any of these recipes and want to share, please post below:
Have A Millet Recipe To Share?
Do you have a recipe about this? Share it!
Want regular updates on African cuisines and food recipes? What about unique health information about these foods - what to eat and avoid to keep healthy from the list of African recipes available? 
Fill in the form below to subscribe to our Newsletter - AfricanFoods Weekly?
Worried about spamming? We are too. We will never ever give or pass on your information to anyone else. We will only use your email address to send you your copy of our weekly newsletter. We do have a zero tolerance to spam. We subscribe to a very strict policy on the handling and use of information we gather on this site! We also get paid for affiliate links on this site. See our  privacy policy  for further details. 
Follow us on social media:
Get Our Weekly Newsletter. Subscribe Today. It's FREE.

Subscribe to African Foods Weekly
Get African food recipes, cooking tips, and healthy eating info  delivered to your inbox every week. Simply fill in your email below and click SUBSCRIBE .

(Your information will not be shared)