Nigerian Brown Beans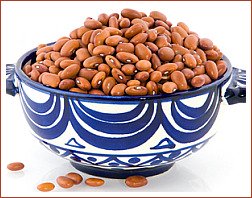 Nigerian brown beans are a unique sub-species of beans grown and widely eaten in Southern, Midwestern and Eastern part of Nigeria.
They belong to the family of plants referred to as legumes, noted to be very rich in protein, yet very very low in fat, more than any other known vegetable seed, making it a great inclusion in healthy diets, as well as weight loss regimes.
Known in the scientific circle as Phaseolus vulgaris.
Brown beans are highly sought after in Nigeria because they tend to have a unique subtle sweetness and flavor, more than the popular black-eyed beans. They are also more tender and "smooth" in texture after cooking and are reputed to be of higher nutritional content than its peers.
There are two types of Nigerian brown beans. There are the "normal" brown beans, and the "sweet" type called ewa oloyin in Yoruba language, if when translated, literally means "the beans with honey" or honey beans.
If you are new to the world of beans, why not try out any of the Nigerian brown beans? You will be more than amazed at the culinary delight they bring to your taste buds. This is no hype. Try a well cooked brown beans recipe today, and you will hardly ever want to eat canned baked beans!
Nutritional Value Of Nigerian Brown Beans
Nigerian brown beans like most brown beans are very rich in:
Dietary Fibre. They contain both soluble and insoluble dietary fibre that makes them give a "filling" effect, that a little amount gives you a great sense of satiety. This is a desirable for weight loss, as you will not need "a lot" of servings to feel satisfied. High dietary fiber also means that you get the bulk effect required for proper bowel function, meaning you should have less problem with constipation, and many other bowel diseases.
Protein. Beans generally have the highest protein per 100g of seed, compared to any other plant. This makes them very very desirable as an addition to any diet plan, and even more so for vegetarians who need a high source of protein. It is also believed that the protein content in Nigerian brown beans is higher than that in the common black eye beans. Combined, a meal of rice and brown beans has been advocated by the United Nations for years as a recipe that can help wipe out Malnutrition in any part of the world, as they constitute a very balanced diet. 100g of cooked brown beans is thought to contain about 7g of protein.
Fat. Are you looking for low fat and high protein diet recipe? You've just found one of the very best. Brown beans are one of the very rich protein containing plant with very low-fat content. No wonder you see beans as a regular addition to most weight loss diets!
Vitamins & Minerals. Nigerian brown beans is rich in blood building iron, folic acid, vitamins B6 and B1, as well as potassium (for healthy heart and nerves), selenium (for great skin and chemical processes in the body), and other vital minerals.
Low GI Carbohydrate. These are food items containing what scientists refer to as low glycaemic index. This means that such food has high burning carbohydrate that releases energy in a surge. Low glycaemic index carbohydrate are complex carbohydrate that are slow to digest, and release a steady supply of energy. Brown beans is certainly a very good source of low GI carbohydrate suitable for sustainable weight loss, smooth energy metabolism, and ideal source of carbohydrates for healthy living. They are also a fantastic choice of energy for diabetics.
Other Protective Ingredients. Nigerian brown beans is very rich in many ingredients that helps in protecting us against diseases such as cancer. One of such constituents is a group of naturally occurring hormones in beans called phytoestrogens and they include isoflavones like genistein and daidzein . They are like the female sex hormone called oestrogen naturally produced by the human body. In food, they are believed to counter the bad effects of certain other chemicals, and help protect against breast and other forms of cancers, as well as improve symptoms of menopause, help strengthen the bones, and reduce the risk of heart attack and stroke. Eating lots of beans could also protect against dementia!
How To Cook Nigerian Brown Beans
How to cook brown beans? Beans in general need long cooking time to bring it to a tender texture for consumption.
Beans must be cleaned before cooking to remove unwanted debris, withered seed, and pieces of gravels and stones in some cases. This is done by scooping the required quantity to be cooked into a tray, and then manually picking out any unwanted additions.
Once cleaned, it is ready to be cooked. Nigerian brown beans can be cooked by:
Boiling and serving with stew, plus bread or yam or plantain
Boiled with rice to make a palava dish or waakeeye
Boiled, and then fried to serve with fried plantain (dodo)
Made into a paste and used in making moi moi
Made into a paste and used in making beans cake (akara) ... and several other beans recipes
If you are cooking beans, it is always a good idea to soak it overnight to soften it, as well as activate the anti-flatulence enzyme needed to help breakdown the non-digestible bits of the beans. 
Brown Beans In Slow Cooker
| | | |
| --- | --- | --- |
| Servings: 6-8 | Prep Time:  | Cooking Time: 6-8 hours |
Ingredients
3 cups of brown beans preferably the honey one.
4 roma tomatoes
2 bell peppers
2 tablespoons honey
1 scotch bonnet
1 tablespoon turmeric powder
1/4 cup olive oil 
1 litre vegetable stock
salt to taste
Method
Soak beans at least four hours or overnight for best results. Or if needed in the morning, soak all day and cook overnight and you have the beans in the morning.
Blend tomatoes onion and peppers, transfer to slow cooker.
Pour in the oil, honey, liquid stock and stir in the turmeric. Stir the spice and the liquid to combine and transfer beans to liquid ingredients and mix thoroughly.
Cook on high for 6-8 hours depending on the appliance and soft and tender you want it.
For the salt, it is entirely up to you when you want to add it. Salt helps break it down, and some of it might be a bit mushy if that is how you want it add the salt at the start of cooking. If however, you want it soft, tender but firm and not mushy, add the salt about one hour to the end of cooking.
Beans can stay in the fridge for up to five days freeze for up to three months.
Recipe provided by www.AfricanFoods.co.uk
Have A Great Story About This Topic?
Did you find the information here on brown beans useful? Any contribution? Have experience with brown beans or any recipe idea on this? Share it.



Return to Beans Main Page from Nigerian Brown Beans Page





Want regular updates on African cuisines and food recipes? What about unique health information about these foods - what to eat and avoid to keep healthy from the list of African recipes available? 
Fill in the form below to subscribe to our Newsletter - AfricanFoods Weekly?
Worried about spamming? We are too. We will never ever give or pass on your information to anyone else. We will only use your email address to send you your copy of our weekly newsletter. We do have a zero tolerance to spam. We subscribe to a very strict policy on the handling and use of information we gather on this site! We also get paid for affiliate links on this site. See our  privacy policy  for further details. 
Follow us on social media:
Get Our Weekly Newsletter. Subscribe Today. It's FREE.

Subscribe to African Foods Weekly
Get African food recipes, cooking tips, and healthy eating info  delivered to your inbox every week. Simply fill in your email below and click SUBSCRIBE .

(Your information will not be shared)