Pounded Yam
Pounded yam is a smooth dough of mashed yam often eaten with a vegetable soup or stew.
It is much like mashed potatoes, but smoother, heavier, and tastier. It is a very popular West Africa.
Traditionally, pounded yam is made by boiling yams in a pot, and once cooked, it is placed in a mortar and pounded or beaten into a smooth textured dough with a three – five foot tall pestle.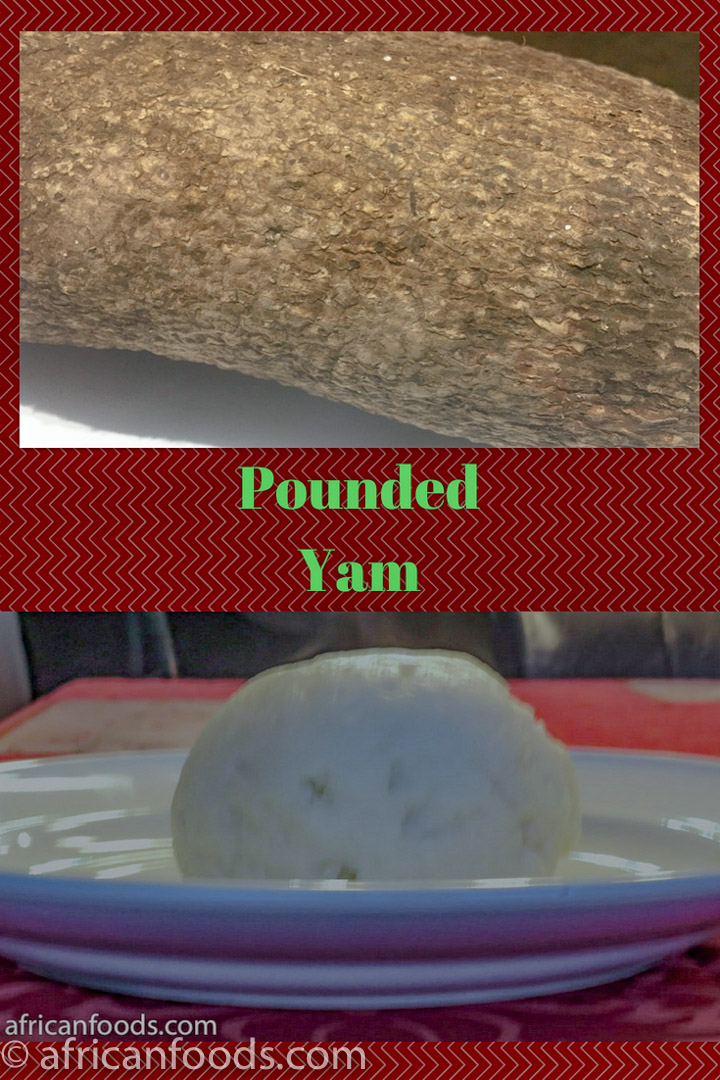 Thanks to modern technology: there are now a couple of new ways to make preparation process easier.

One way is by using a special machine called yam pounder. The yam is first peeled and cut into small chunks, then placed in a yam pounder.
The device gets the yam cooked. Once cooked, it switches into a blending mode and crushes the yam, then mashes it into a smooth dough.
The other way is even easier and popular especially outside Africa. This involves yam been processed into a dried powder (dehydrated yam flour) either by sun drying yam or commercially using desiccating machines.
All you need to do is sprinkle the yam flour into a pot of boiling water and stir the mixture until you obtain your desired texture, then you allow this to cook for a few minutes. You can see full details of how to prepare yam flour here at the pounded yam recipe section.
Nutritional Value Of Pounded Yam
Besides the water used in cooking the yam no other ingredient is added making it very healthy. Yam in itself has been hailed as one of the most nutritious food known to man. Apart from been rich in fibre, protecting the bowel against diseases like diverticulitis, it is a great source of vitamin C, vitamin B6, magnesium, and phosphorus. It is also rich in protein.
Pounded yam is highly regarded than all other fufu. It tastes better and in agarian communities it is a symbol of wealth to have loads of yam in your barn. It could last six months or more by storing in a cool dry place, no need for refrigerating.
Want regular updates on African cuisines and food recipes? What about unique health information about these foods - what to eat and avoid to keep healthy from the list of African recipes available? 
Fill in the form below to subscribe to our Newsletter - AfricanFoods Weekly?
Worried about spamming? We are too. We will never ever give or pass on your information to anyone else. We will only use your email address to send you your copy of our weekly newsletter. We do have a zero tolerance to spam. We subscribe to a very strict policy on the handling and use of information we gather on this site! We also get paid for affiliate links on this site. See our  privacy policy  for further details. 
Follow us on social media:
Get Our Weekly Newsletter. Subscribe Today. It's FREE.

Subscribe to African Foods Weekly
Get African food recipes, cooking tips, and healthy eating info  delivered to your inbox every week. Simply fill in your email below and click SUBSCRIBE .

(Your information will not be shared)