Rice And Cowpea, Instant Pot Recipe.
Rice and cowpea in an instant pot? Yes, this delicious meal is easy to whipp up in perfect time for you to enjoy a delicious and highly nutritious meal. It is cooked in one of my favourite  ingredients: coconut milk.

On this website, we are actively encouraging our readers to eat more plant-based food. What better recipe to look at than rice and cowpeas? 
What Is The Difference Between Cowpea And Black-eyed Pea?
The cowpea, are a family of legumes known as vigna unguiculata in the botanical world. While the black-eyed pea or beans are a type of cowpea. So, simply put black-eyed peas are cowpeas.
The cowpea is cultivated in Africa and Asia and they are a great source of protein. If you must eat only plant-based food then, you should consider adding this to your diet as a huge source of your protein. 
For this post, the names may occur interchangeably. You may have read how nutritious the combo of rice and black-eyed pea could be for you and your family.

Rice And Cowpea In An Instant Pot?
One of my favourite kitchen essentials is my instant pot. They are a must-have in any kitchen. I chose the instant pot because I am cooking beans from dry, and we know they take forever to cook. And this sometimes hinders many from cooking peas, especially from scratch. With an instant pot, your cooking time may be a quarter or less!

What Are The Ingredients For Rice And Cowpea?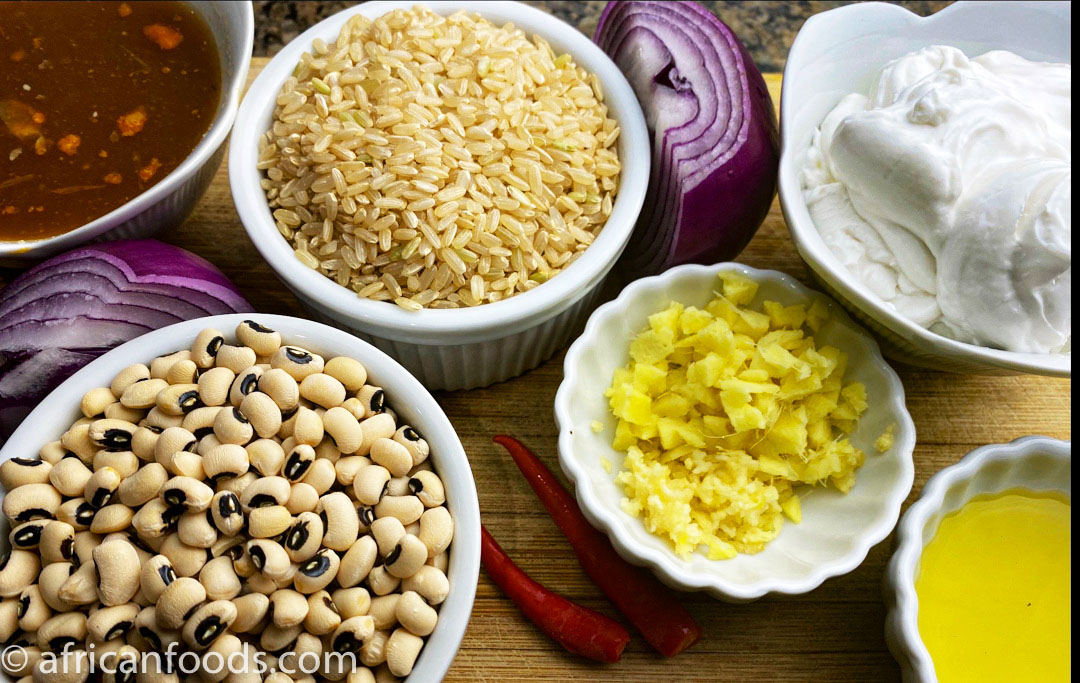 The Ingredients for rice and cowpeas recipe at a glance.
To make this creamy rice and black-eyed pea recipe, you need the following:
Rice And Cowpea
| | | |
| --- | --- | --- |
| Servings: 6 | Prep Time: 20min | Cooking Time: 35min |
Ingredients
1 and 1/2 c cup of wholegrain rice
1 and 1/2 c cup of dry black-eyed beans
2 tablespoons olive oil
1 tablespoon freshly minced ginger
4 garlic cloves, minced
1-2 Thai pepper or habenero or scoth bonnet, chopped
1 medium onion, chopped
1 14oz can coconut milk
600ml of vegetable stock
salt to taste


Method
Sort beans and check for any debris. Rinse rice and beans and set aside separately.
Turn on your instant pot and press the saute button to heat the pot. When hot, pour in the olive oil and allow it get hot then add the onion to the pot to saute leaving the lid off. This should take about 5 minutes.
Then add the pepper, ginger and garlic sauteing for another 3-4minutes.
Pour in the stock and coconut milk. Then, stir in rice and beans with a spoon.
Change the cooking mode to pressure cooker then, cook for twenty-five minutes, allowing pressure to release naturally.
When cooked, carefully open the lid and stir rice and beans to combine.
Serve immediately with any pepper sauce of your choice.
Note if you swap wholegrain for long grain rice you might need to allow beans to cook first for about 15 minutes, use the quick release to release steam then, add the rice and use the rice cooking setting to finish cooking. Allow pressure to release naturally at end of cooking.
Recipe provided by www.AfricanFoods.co.uk
Have you tried this recipe?
Did you make this rice and cowpea recipe? You can now share your photos!
Want regular updates on African cuisines and food recipes? What about unique health information about these foods - what to eat and avoid to keep healthy from the list of African recipes available? 
Fill in the form below to subscribe to our Newsletter - AfricanFoods Weekly?
Worried about spamming? We are too. We will never ever give or pass on your information to anyone else. We will only use your email address to send you your copy of our weekly newsletter. We do have a zero tolerance to spam. We subscribe to a very strict policy on the handling and use of information we gather on this site! We also get paid for affiliate links on this site. See our  privacy policy  for further details. 
Follow us on social media:
Get Our Weekly Newsletter. Subscribe Today. It's FREE.

Subscribe to African Foods Weekly
Get African food recipes, cooking tips, and healthy eating info  delivered to your inbox every week. Simply fill in your email below and click SUBSCRIBE .

(Your information will not be shared)