Sourdough Chocolate Chip Cookies
Sourdough chocolate chip cookies? Who does not like dark chocolate? And when you put some chocolate in your cookies, like these soft, fluffy sourdough chocolate chip cookies then, you get that extra deliciousness, just the way your dessert should taste.

Do you already have a sourdough starter? And you are wondering what do I do with the discard? Now, if you are new to baking and the use of sourdough starters, then, you might want to read my post on sourdough st. A sourdough starter is a culture of microorganisms that you find in foods like yogurt or cheese. You cultivate these microorganisms through fermentation. Learn how to make yours with water and flour.
For now, assuming you already know what a sourdough starter is, and you have made yours, then, this recipe is good to go. If you have a homegrown sourdough starter, you need to feed regularly to keep the yeast active. The process involves throwing out the surface liquid and feeding your cultures to keep it alive and suitable for consumption.
However, rather than throw the sourdough discard, use it in other recipes. Scones, cinnamon rolls, or cookies are some recipes you can use your sourdough discard.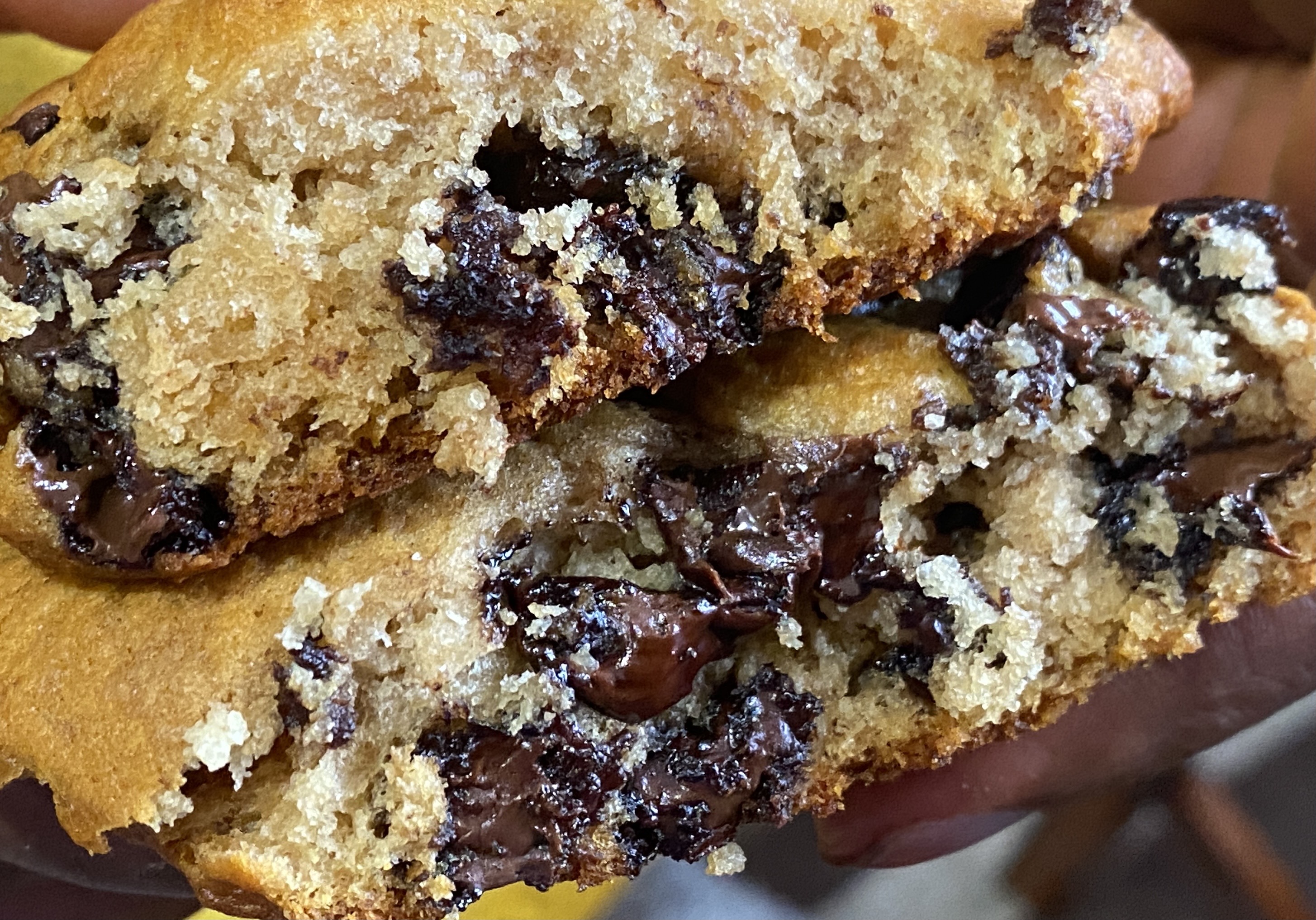 How To Make Sourdough Chocolate Chip Cookie?
The ingredients are sourdough starter, allpurpose flour, I prefer honey to sugar so I have used honey for this recipe. You can use brown sugar if you prefer sugar. And increase the sugar to 3/4 cup or 1 cup if you want it very sweet. I keep mine low but you can go up to one cup. Anything more may be way too sweet.
Sourdough Chocolate Chip Cookie

| | | |
| --- | --- | --- |
| Servings:  25 cookies | Prep Time:  10min | Cooking Time:   10minutes |
Ingredients
One stick of unsalted butter (melted and cool)
3/4 cup neutral oil of choice 
1/2 cup of honey or more if you want it extra sweet
1 large egg
1 cup unfed sourdough starter
1 tbsp vanilla extract
1tsp baking soda
1tsp baking soda
1 tsp salt
2 cups all purpose flour
11/2 cup chocolate chip cookie
Method
Combine honey, oil and butter in a bowl.
Add the egg to the mixture to incorporate.
Then, pour in your sourdough discard and vanilla, mixing to combine with the butter mixture.
Add your flour, baking soda, baking powder, salt, combining dry and wet ingredients without over mixing.
Finally, fold in the chocolate.
Refrigerate for at least 20 minutes
Heat oven to 350F 
Using any convenient spoon or tool you have, I use ice cream scoop or use my quarter cup to scoop the dough onto a parchment-lined oven tray. Or use this  silicon oven mats , they are reusable, wash and reuse.
Transfer to the already heated oven and bake for 10-12 minutes.
Take out of the oven, cool and enjoy.
Recipe provided by www.AfricanFoods.co.uk
All links to Amazon are affiliate links that helps in keeping this site running.
Want regular updates on African cuisines and food recipes? What about unique health information about these foods - what to eat and avoid to keep healthy from the list of African recipes available? 
Fill in the form below to subscribe to our Newsletter - AfricanFoods Weekly?
Worried about spamming? We are too. We will never ever give or pass on your information to anyone else. We will only use your email address to send you your copy of our weekly newsletter. We do have a zero tolerance to spam. We subscribe to a very strict policy on the handling and use of information we gather on this site! We also get paid for affiliate links on this site. See our  privacy policy  for further details. 
Follow us on social media:
Get Our Weekly Newsletter. Subscribe Today. It's FREE.

Subscribe to African Foods Weekly
Get African food recipes, cooking tips, and healthy eating info  delivered to your inbox every week. Simply fill in your email below and click SUBSCRIBE .

(Your information will not be shared)