Waakye
Waakye is a delicious and nutritionally rich food. and some believe it is a combination than can help stamp out malnutrition from the world! There has been a lot of articles including this here that show the benefit of this combination.

The pair of rice and beans has been known to man for centuries. Perhaps the two major reasons are that in many parts of the world they are inexpensive and a highly nutritious pair. The beans is the most nutritious part, rich in protein, fiber, antioxidants, magnesium, iron, potassium, the list goes on. Suitable for vegans, vegetarians, diabetics and any on a low carb diet. The rice the other part of the pair is rich in carbohydrates that means, it aids the brain to carry out its functions and provides the energy we use for everyday activities.

This Rice and beans combo are popular in West Africa. Waakye is a Ghanian side dish and very easy to cook. What I love the most about it, is the simplicity of ingredients. Four ingredients and you would create this delicious recipe often served with a pepper sauce called shitor.

The name Waakye(pronounce wa-she) is the word for millet in the Ga language. Dried millet leaves are added to this great meal to give it its flavour and unique colour. The ratio of beans to rice varies from person to person, for this recipe I have used a 1 to 2 ratio of beans to rice.  However, you could adjust quantities as desired.
The choice of beans for this also varies. Many would use the black eye beans, or the brown beans common in most of that region. The red kidney beans or black beans could be used if you cannot find the black eye beans or you already have them in your pantry.
Want to know how to cook this? Let us go to the recipe.

How To Cook Waakye
Waakye

| | | |
| --- | --- | --- |
| Servings: 6 | Prep Time: 10min | Cooking Time: 2 hours |
Ingredients
1 cup of beans of choice I prefer brown beans
2 cups of rice
3-4 waakye(millet leaves
1/2 teaspoon baking soda(optional use if it is very old beans)
salt to taste
Method
It is good practice to soak beans overnight, then rinse, drain and transfer beans to pot to cook. Add water at least 2 inches high and bring to a boil on high then, reduce heat to medium-low add baking soda if using, take off lid briefly as the baking soda makes it foam when it settles, put the lid of the pot back on and cook for about an hour until tender but firm.
Add the rice and more water, the millet leaves and salt to cover rice and beans, cooking until liquid is absorbed. The remaining cooking should take extra 40minutes depending on how tender you want your rice.
Food is ready to serve.
Baking soda helps to tenderize especially old beans. In Ghana instead of the baking soda, akan(cooking potash) if used in small quantity it is okay. Too much baking soda also destroys some nutrients in the beans like thiamine, a particular B vitamin, and it could also affect the taste negatively.
Recipe provided by www.AfricanFoods.co.uk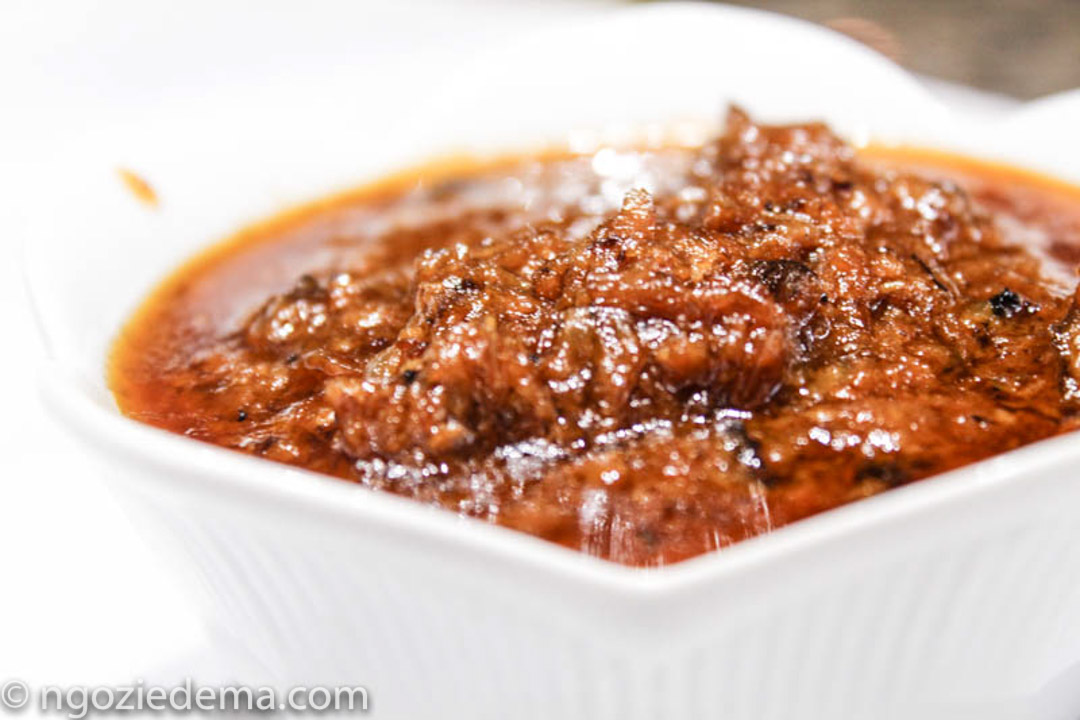 The waakye is delicious on its own, and you could add to your salad, and it would be highly nutritious and filling. 
The most popular way of serving the waakye is with shitor sauce, a pepper sauce made from onion, pepper, garlic, fish, dried prawn. The sauce is dark brown. Although, other variants of shitor sauce could be green or red and sometimes cooked with no oil, which potentially could be the healthier option. However, the colour on the recipe here is the most common method of preparation. Please find below the recipe for the shitor sauce.
Shitor Sauce For Waakye
Shitor Sauce

| | | |
| --- | --- | --- |
| Servings:  | Prep Time: 20min | Cooking Time: 40-60min |
Ingredients
3 tablespoons cayenne pepper
3 tablespoons tomato paste
3 large onion (roughly chopped)
Thumb size ginger root(chopped)
4 garlic cloves(chopped)
3 cups dried shrimp
1 1/2 cups of olive oil
1-2 stock cube of choice(optional, hardly use this)
salt to taste


Method
Rinse dry shrimp thoroughly in cold water to take out any debris and drain until dry then ground and set aside
Heat up a heavy based medium pot and pour in the oil, fry the onion, ginger and garlic 8-10 minutes.
Stir in the tomato paste and crush and add the stock cubes if using ,stirring for about 2 minutes.
Now add the grounded shrimp then, combine with everything else. Cook on medium low stirring ocassional say every 10- 15 minutes until you get that dark reddish colour but not burnt.
Store in an airtight container in the fridge and use as needed.
Recipe provided by www.AfricanFoods.co.uk
Want regular updates on African cuisines and food recipes? What about unique health information about these foods - what to eat and avoid to keep healthy from the list of African recipes available? 
Fill in the form below to subscribe to our Newsletter - AfricanFoods Weekly?
Worried about spamming? We are too. We will never ever give or pass on your information to anyone else. We will only use your email address to send you your copy of our weekly newsletter. We do have a zero tolerance to spam. We subscribe to a very strict policy on the handling and use of information we gather on this site! We also get paid for affiliate links on this site. See our  privacy policy  for further details. 
Follow us on social media:
Get Our Weekly Newsletter. Subscribe Today. It's FREE.

Subscribe to African Foods Weekly
Get African food recipes, cooking tips, and healthy eating info  delivered to your inbox every week. Simply fill in your email below and click SUBSCRIBE .

(Your information will not be shared)