Delicious African Desserts
The Pièce De Résistance of Any African Meal

No African meal is truly complete without one of our favorite tasty African desserts. 

African desserts are varied and simple to make. Many are naturally sweet and refreshing. You should have no problem replicating the dishes since most ingredients are readily available. 
African dessert recipes will tantalize your taste buds and leave you with savory memories you'll want to return to again and again.
One popular South African dessert is malva pudding. It is composed of a spongy cake and a sweet sauce. So yummy!


How to Make South African Malva Pudding
Pudding Ingredients
1 cup caster sugar
1 1/2 tbs soft unsalted butter
1/4 cup apricot jam
1 egg
1 cup milk
2 tsp white vinegar
1 tsp vanilla bean paste
1 cup plain flour
1 tsp baking soda
Pinch of salt 

Sauce Ingredients
1/4 cup hot water

1 cream or evaporated milk
1/2 cup caster sugar
1/3 cup soft unsalted butter
Lightly whipped cream or crème anglaise, to serve


Baking Time
Bake at 325 F for 40-45 minutes

Contrary to what some believe, African desserts are a frequent accompaniment to traditional African meals.
In Africa and south of the Sahara, the African fruit salad is the most popular dessert and is served across all cultures and regions therein. It's one of our favorites.
African Fruit Salad

African fruit salads are made from fruits like:

Pineapple

Papaya

Banana

Tropical oranges

Horned melon

Mangoes

Coconuts

Soursop fruit, etc.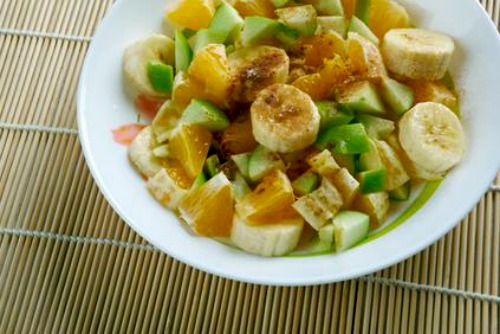 African Fruit Salad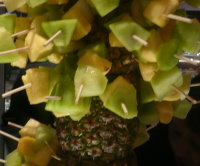 The fruit is diced and served with homemade yogurt or milk and honey or some other dressings where available.
The selection of tropical fruits available on the African continent make desserts easy to include at mealtime with little effort.
Traditionally many African desserts are prepared from blend of freshly harvested fruits from the back garden or the evening market. 
Also, popular are homemade yogurts like Nuonu, natural sweet drinks such as those found in Northern Nigeria, roasted fruits like ripe plantain (bolie), and cakes and pastries like quaka and Ikaara in Southern Nigeria.
On the other hand, North African desserts are mainly prepared from dried fruits and raisins, cakes, pastry and milk drinks. See what I mean? The desserts are varied, but they are all DELICIOUS!
African Sweet Rice
1 cup white rice

2 cups milk

1 cup sugar

2/3 cup butter

Pinch of salt

Grated nutmeg

Grated cinnamon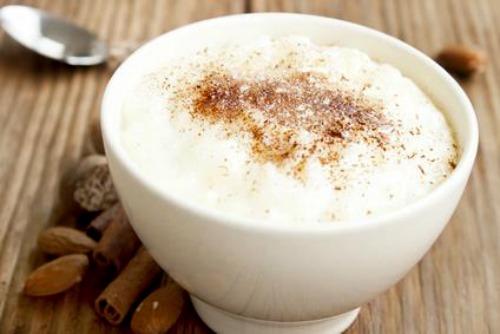 African Sweet Rice
Cook rice. Add milk sugar, butter and salt. Cook to boiling over low heat, stirring often. Remove and serve in bowls. Sprinkle with nutmeg and/or cinnamon.


South African Koeksisters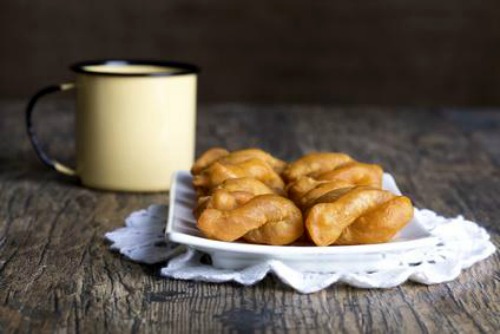 South African Koeksisters
How to Make Koeksisters
Pastry Ingredients
1 1/2 cups pastry flour
4 1/2 tsp baking powder
1/4 tsp salt
4 tsp butter 
2/3 cup cream milk 
Oil for frying


Syrup Ingredients
1 cup water 
2 1/2 cups sugar
2 1/2 tsp lemon juice
1 tsp vanilla essence or...
... 4/5 slices fresh ginger and cinnamon
More African Desserts
South African Milk Tart
Plantain Pancakes
African Soetkoekies
Coconut Ice
Peppermint Crisp Tart
Guava Ice Cream
Mandazi (African Doughtnut)
Hertzoggies