African Snacks and Finger Foods

Who can resist a tasty treat when you get the craving. These African snacks are not only appetizing, but many are healthy and guilt-free for those who are serious about watching their waistlines.
African snacks range from sweet to savory, exotic to traditional, crunchy to smooth. There's something to satisfy every palate.


One of our favorite go-to snacks is chapati. Chapati is a popular African street snack and is  similar to tortilla bread. They not only make a great snack, but they can also be served with a meal and they are SO EASY to make.

How to Cook the Best Chapatis for Snacking
Ingredients
2 cups flour 
1 tsp salt
Water
Oil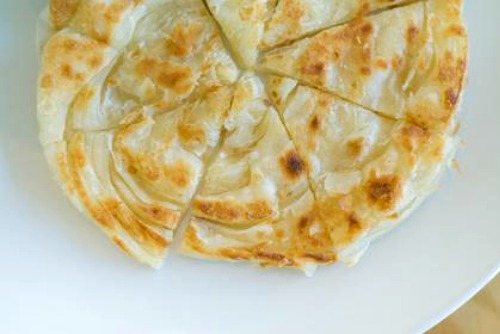 Instructions
Mix flour and salt in a bowl. 
Stir in  enough water to make the dough elastic, but not sticky. 
Knead the dough until it is smooth. Add oil and form a ball.
Cover the bowl with a towel and let sit for 30 minutes.
Roll out dough on a floured surface.
Divide into 8-10 pieces.
Roll each piece into a ball.
Roll each ball out on a floured surface to form a circle with even thickness like a tortilla.
Heat a frying pan over medium heat.
Cook each chapati in the pan till the underside in browned and then flip.
Repeat for remaining dough.
Slice into wedges or serve whole.


Want to snack on a healthy portion of fruit or vegetables? Then, fritters may be the perfect choice for you. There are a wide range of fritter recipes, but let's start with a simple rice and vegetable fritter. This recipe offers lots of opportunity for you to be creative and make a custom dish with your favorite fruits and veggies. 


Rice and Vegetable Fritters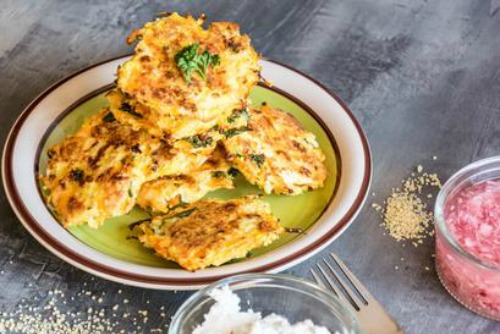 Ingredients
1 cup cooked white rice
1/2 cup chopped mushroom
1/2 cup chopped peppers
1 cup cooked black beans
1/2 cup sweet corn
1 cup grated zucchini or okra
1/3 cup breadcrumbs
1/2 tbs Worcestershire sauce
1/4 tsp cumin
1 egg
Salt and pepper to taste
Oil for frying
Instructions
Mix all ingredients except for oil
Press into flat patties
Fry in skillet till brown on both sides
Serve alone or with dip


NOTE: You can substitute any vegetables you like or use equal amounts of chopped fruit with the rice and add sugar instead of spice to make rice and fruit fritters instead.



For a comfort snack that's packed with flavour, you must try a serving of bunny chow. You can't beat scoops of hot spicy curry served in a hollowed out chunk of bread. It's both satisfying and delicious. You could even call it a meal.


How to Prepare Durban Bunny Chow
Ingredients
1 loaf of bread
1-2 lbs cubed lamb, beef, or chicken
1 tsp minced ginger
4 finely chopped garlic cloves
1 tsp crushed green chillies
2 medium chopped tomatoes
1 medium chopped onion
2 large cubed potatoes
1/2 cup oil

Spices
1 cinnamon stick
1 tbs curry powder
2-3 curry leaves
1 teaspoon cayenne pepper
3 lightly crushed cardamom pods
1 1/2 teaspoon paprika
2 teaspoons turmeric
2 tbs garam masala
1 tsp fennel seeds
Salt and pepper to taste

Cook curry ingredients and pour into hollowed out bread to serve.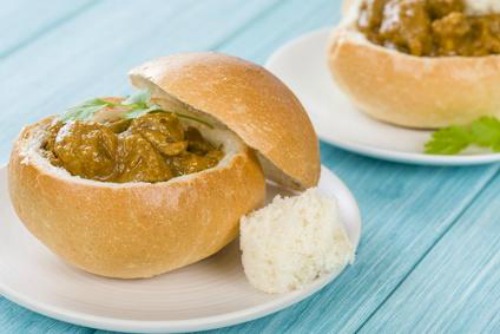 Did You Know?
Bunny Chow has a not so sweet past. In fact, the name has nothing to do with bunnies. It is actually a derogatory term.
Learn more about the history of bunny chow here.
More African Snacks
Dabo Kolo
Kapana
Fried Plantain Chips
African Egg Rolls
Chin Chin
Bhajia


African Samosa
South African Biltong
Mandazi
Puff Puff
Moin Moin
African Fish Rolls



Want regular updates on African cuisines and food recipes? What about unique health information about these foods - what to eat and avoid to keep healthy from the list of African recipes available? 
Fill in the form below to subscribe to our Newsletter - AfricanFoods Weekly?
Worried about spamming? We are too. We will never ever give or pass on your information to anyone else. We will only use your email address to send you your copy of our weekly newsletter. We do have a zero tolerance to spam. We subscribe to a very strict policy on the handling and use of information we gather on this site! We also get paid for affiliate links on this site. See our  privacy policy  for further details. 
Follow us on social media:
Get Our Weekly Newsletter. Subscribe Today. It's FREE.

Subscribe to African Foods Weekly
Get African food recipes, cooking tips, and healthy eating info  delivered to your inbox every week. Simply fill in your email below and click SUBSCRIBE .

(Your information will not be shared)