Chakalaka
Chakalaka a South African dish that could be salad or a chilli stewed beans. Depending on preference some say beans is not necessary to make chakalaka but majority of the recipes I have seen have got beans in them and for me that is just perfect as I love baked beans, the usual beans used in the preparation.
The recipe use very basic ingredients that you already have at home like onion, peppers, ginger root, garlic cloves and whatever herb or spices you may fancy, like thyme and curry powder.
This recipe is a completely meatless recipe but highly nutritious. Serve on toast for breakfast, pair with plantain, pap or rice for dinner. Suitable to accompany barbeques or simply have it on its own. The options on how serve this are endless.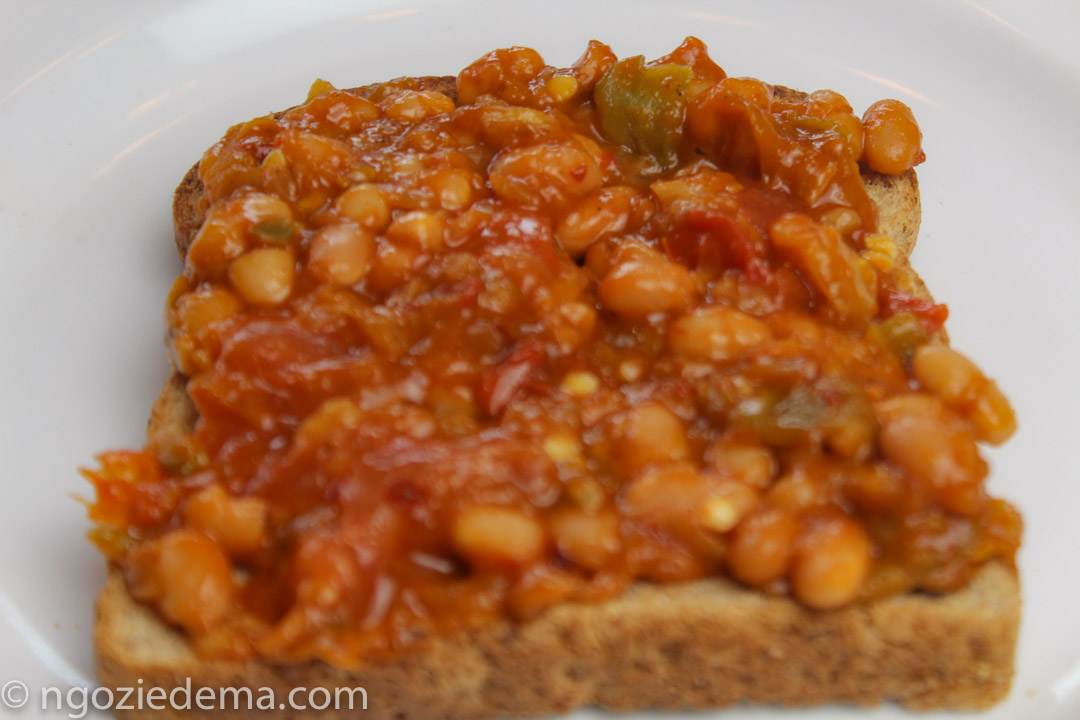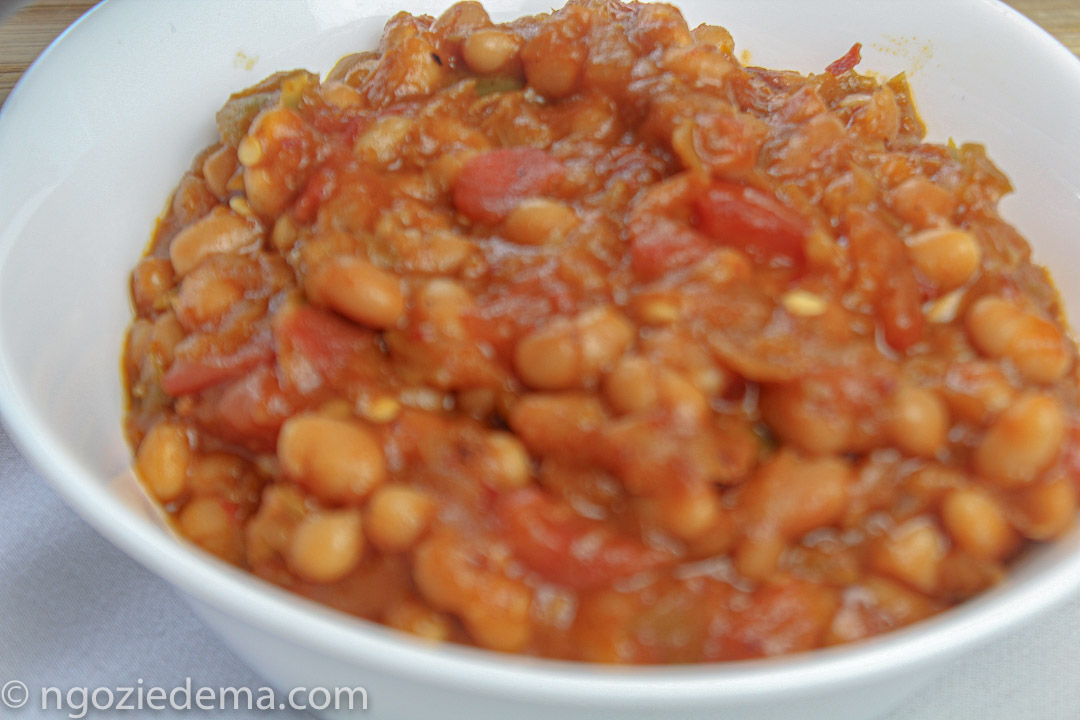 How To Cook Chakalaka
Chakalaka

| | | |
| --- | --- | --- |
| Servings: 6 | Prep Time: 10min | Cooking Time: 30min |
Ingredients
1 14oz can of baked beans
1/4 cup of olive oil
6 roma tomatoes crushed
1 cup of chopped carrots
1 green bell pepper and any other two colours of bell peppers on hand, chopped(total 3 bell peppers)
1 small onion chopped
1 tablespoon tomato paste
1 tablespoon minced ginger root
2 cloves of garlic, minced
1 teaspoon thyme
2 teaspoon mild curry powder
3 tablespoons piripiri sauce
salt to taste
Method
Heat a heavy based pot and heat up oil.
Saute the onion garlic and ginger for about 5-6minutes
Stir in the the curry and thyme stirring often 1-2 minutes
Stir in the chopped bell peppers and carrots for 2minutes
Add the tomato paste, crushed tomatoes and piripiri sauce stir and allow to continue cooking on medium heat for about 10minutes then, add the baked beans with about 250mls of water bring heat to medium low and simmer for the rest of the cooking until sauce thickens to your desired consistency. Add salt to taste.
Serve on a bed of rice, pap or on bread
Recipe provided by www.AfricanFoods.co.uk
Would you like to try more bean recipe on this blog check the following:
And if you try any of them lt me know how got on. Take a photo and tag me on instagram, I love to see them.
Want regular updates on African cuisines and food recipes? What about unique health information about these foods - what to eat and avoid to keep healthy from the list of African recipes available? 
Fill in the form below to subscribe to our Newsletter - AfricanFoods Weekly?
Worried about spamming? We are too. We will never ever give or pass on your information to anyone else. We will only use your email address to send you your copy of our weekly newsletter. We do have a zero tolerance to spam. We subscribe to a very strict policy on the handling and use of information we gather on this site! We also get paid for affiliate links on this site. See our  privacy policy  for further details. 
Follow us on social media:
Get Our Weekly Newsletter. Subscribe Today. It's FREE.

Subscribe to African Foods Weekly
Get African food recipes, cooking tips, and healthy eating info  delivered to your inbox every week. Simply fill in your email below and click SUBSCRIBE .

(Your information will not be shared)