EdikangIkong Soup With Spinach and Kale

Edikangikong soup is a delicious vegetable sauce prepared from a blend of pumpkin leaves, water leaves, periwinkles or snails, fish and assorted meat. It is perhaps the most prestigious, most talk about soup in Nigeria.

Edikangikong sauce or soup as it is called in Nigeria is a super-green vegetable sauce. Two highly delicious vegetables are the main ingredients. The waterleaf known botanically as talinium fructicosum very similar in look and texture to spinach found many grocery shops. This vegetable is cultivated in West Africa, South Asia and warmer climates like in Brazil.
It is rich in vitamins A and C, in iron, phosphorus and calcium. The other vegetable is the fluted pumpkin, or Ugu leaves as it is called in Nigeria. This highly nutritious dark leafy green is known in the botanical world as telfairia occidentalis. Ugu is rich in iron and potassium and high in antioxidants. As a chld, I remembered my mum making juice from this leaf and served it to anyone low on iron. And over and over again, the results were amazing after a few days.
So, to have these two vegetables as the main ingredients for this sauce, makes it a power-house of nutrients one that you will love and serve over and over again.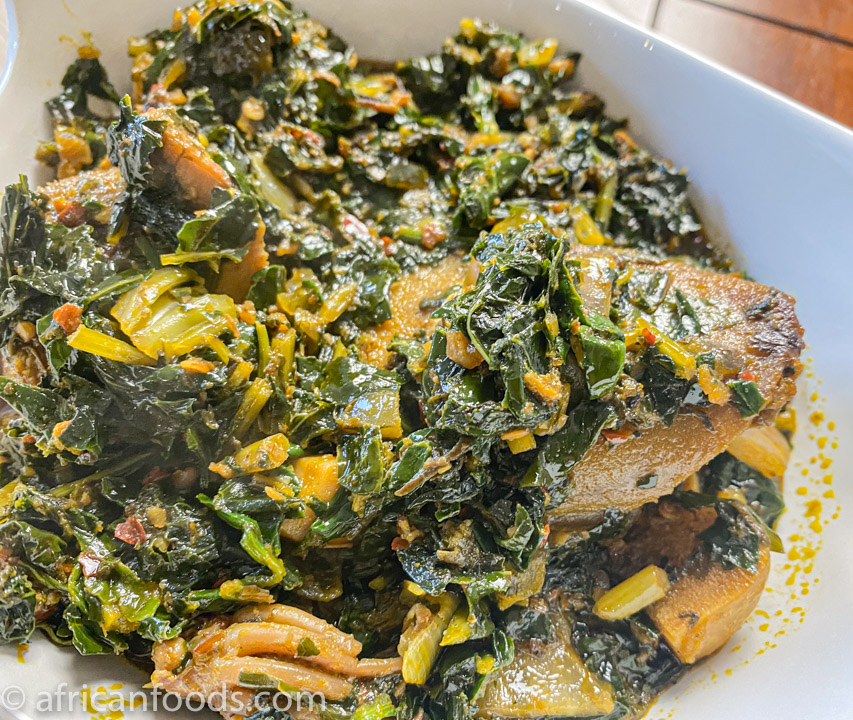 Edikanikong is a special vegetable sauce made popular by the Efiks and Ibibios from Eastern Nigeria but is now a household name across the country. It is a highly nutritious treat served with pounded yam, fufu or eba accompanied with a glass of cold drink of choice on special occasions like weddings, funerals and other parties.

For this recipe, I am substituting the vegetables. Ugu and waterleaf are the preferred option, however, the fresh vegetables are not available where I live. The frozen ones do not taste as great as fresh. So, I replaced the waterleaf with spinach and the ugu with kale. These are great vegetables and great substitutes for this recipe. 

Difference between Afang and Edikanikong
Edikangikong is very similar to its sister vegetable sauce from the same region, afang. They both use two vegetables. However, whereas, edikangikong's main veggies are waterleaf and ugu, afang is okazi and waterleaf os spinach. Check out recipe here.

Edikangikong With Spinach And Kale
Edikangikong soup

| | | |
| --- | --- | --- |
| Servings: 4-6 | Prep Time: 30min | Cooking Time: 1hour 30min |
Ingredients
500g chopped kale

250g chopped spinach

500g or 4-5 pieces of cut cow foot

400g cut tripe pieces

4-5 pieces of grilled chicken

1 medium-size dried fish

2 small onion chopped

2 tablespoons ground crayfish

1 cup cleaned prawn deveined

1 cup of palm oil

1 chicken stock cube

1-2 dried grounded cayenne pepper

salt to taste.
Method
The tripe and cow feet are usually tough meat. So, it may take longer to cook on stove say roughly about an hour depending on how tough. So, I use my instant pot to save time. Use the stove if that is what you have and it is fine.
Transfer tripe and cow feet to the pot along with cleaned dried fish, with half the chopped onion, salt and one tablespoon of pepper. I add just enough water to cover the meat.
On instant pot, I cook for 25minutes sealed and allow to slowly release steam. On stove pot, I add slightly more water and cook until meat is tender leaving only about 200ml of liquid in the pot. If using pot, I add the dry fish when meat is cooked halfway through. Now you have some of the liquid you need for the sauce.
Transfer everything from instant pot to another pot, this time on your stove. Pour in the palm oil, and add the crayfish, remaining pepper and chopped onion cooking for a further 10minutes.
Stir in chopped spinach and prawn cooking for another three minutes.
Stir in the kale for another 3 minutes. Add salt if needed.
Serve with pounded yam, eba, fufu, semovita or ground rice.
Recipe provided by www.AfricanFoods.co.uk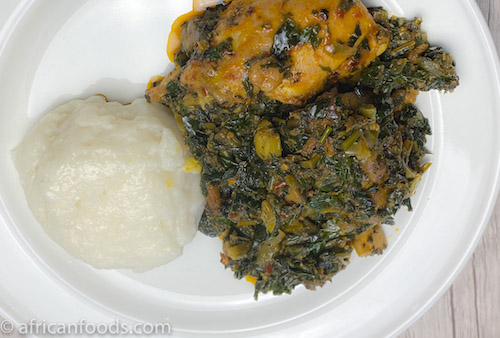 Did You Try This Recipe?
Please share it!
Want regular updates on African cuisines and food recipes? What about unique health information about these foods - what to eat and avoid to keep healthy from the list of African recipes available? 
Fill in the form below to subscribe to our Newsletter - AfricanFoods Weekly?
Worried about spamming? We are too. We will never ever give or pass on your information to anyone else. We will only use your email address to send you your copy of our weekly newsletter. We do have a zero tolerance to spam. We subscribe to a very strict policy on the handling and use of information we gather on this site! We also get paid for affiliate links on this site. See our  privacy policy  for further details. 
Follow us on social media:
Get Our Weekly Newsletter. Subscribe Today. It's FREE.

Subscribe to African Foods Weekly
Get African food recipes, cooking tips, and healthy eating info  delivered to your inbox every week. Simply fill in your email below and click SUBSCRIBE .

(Your information will not be shared)